Loading...
Cazal Designer Glasses

Cazal Eyewear 80's future Retro Visionaries
Launched in Germany in 1975, Cazal Eyewear is a visionary eyewear brand created by founder and chief designer, Cari Zalloni. Cari was a charismatic Austrian designer who began his storied and legendary career when he enrolled at the Academy of Applied Arts in Vienna in 1960, to study and develop his intrinsic passion for design. Shortly after, Cari applied his knowledge as a furniture designer in Siena, Italy, and then as a glassware designer in Germany, where he moved in 1962.

In 1975, Cari partnered with another industry visionary, entrepreneur Gunter Bottcher, and together the pair introduced the distinctive and stylish designs of Cazal Eyeglass to the public. Cazal was a combination of "Cari" and "Zalloni", symbolic of the involvement of the founder in every aspect of the legendary designs that have influenced the global eyewear industry for over 45 years.

With thoughtfully appointed designs and exquisite detailing, Cazal Eyewear has an enduring style that has cemented its position as one of the most iconic eyewear brands in the world. Although Cari Zalloni passed away in 2012, his leadership and revolutionary vision lives on in the current collection of Cazal luxury eyewear available at Designer Glasses.
24 hour dispatch of Cazal Eyewear
Inventiveness combined with ingenuity is the hallmark of the Cazal Eyewear range of stylish glasses and frames, and Cari Zalloni stood at the forefront of his revolutionary brand, infusing it with passion and creative artistry. He was widely considered to be a genius in the eyewear industry, and his designs were omnipresent in the emerging hip-hop scene of the 1980s, worn by legends such as Public Enemy, Run DMC, and the Beastie Boys.

Cazal Eyewear continues to create striking designs that walk the balance between unusual, inspired, and timeless, appeasing fans all over the world with statement-making designer glasses that are more than just an accessory. At Designer Glasses, you'll find a range of Cazal eyewear designs in a variety of shapes, colours, and patterns, including geometric designs and hexagonal frames that are both edgy and fashion-forward.

If you're a fan of controversial hip-hop trailblazers, Cazal has introduced its Legends line, designed to evoke the extravagant style of the genre. Every pair of Cazal designer glasses from the Cazal Legends line is a masterpiece of luxurious opulence, recreating the excess of the 80s with inspired designs that perfectly capture the extreme fashion of the decade. You'll find Cazal glasses with gold accents, Cazal oversized designer frames with intricate detailing and embellishments, and Cazal glasses with a combination of metal and acetate in a seamless modern design.

For those who prefer a more understated prescription eyewear design, we have a wide range of Cazal designer prescription glasses that feature the same high-quality materials and comfortable design, but with a more subtle and elegant look. Check out our selection of Cazal full rim titanium frames for women, Cazal square shaped frames, and Cazal designer glasses with a classy double bridge that is equal parts modern and sophisticated. Whatever look you desire to achieve, you'll find it when you browse the selection of Cazal luxury eyewear at Designer Glasses.
Our Virtual Try-On Tool with Help You Select the Best Cazal Designer Glasses
While you're browsing our selection of Cazal designer eyeglasses for men and women, don't forget to utilise our Virtual Try-On tool. Our innovative tool uses advanced augmented reality technology to provide a glimpse of how your preferred frames will look with your own features and face shape. Now you can shop for and purchase your favourite Cazal designer glasses with confidence!

The 3D virtual try on can also be used on the Cazal sunglasses.
How To Order Your Cazal Designer Frames online
When you shop the Cazal designer eyewear collection at Designer Glasses, you'll be rewarded with an ordering process that is fast and easy. After selecting your favourite Cazal frames style, you'll choose your frame colour and begin the process of customisation. Simply enter in your personal details when prompted, including your materials preferences and your prescription strength.

Your new prescription lenses will also come with free scratch resistant and anti-glare coatings for additional comfort and protection. Once you've completed the process, you'll check out using your secure preferred payment method of payment and will receive a delivery date estimate. If you have chosen Cazal glasses with prescription lenses, your delivery time will increase by 3 working days.
We Only Carry 100% Authentic Cazal Designer Prescription Glasses
At Designer Glasses, we showcase the fine quality of Cazal Eyewear by offering only 100% authentic Cazal designer glasses, with pricing up to 50% off when compared with traditional high street shops.

Every pair of Cazal glasses comes with a confirmed certificate of authenticity, a 12-month manufacturer warranty, and an official brand case and soft cleaning cloth to protect your new glasses from damage. In addition to the innovative and engaging design of each pair, all Cazal designer glasses will feature the engraved Cazal logo on the temple.
Superior Customer Service Is Our Top Priority at All Times
At Designer Glasses, we work tirelessly to ensure that our customers have the best shopping experience possible. Our team of eyewear experts is available at any time of the day to answer your questions, whether you are shopping online or in one of our retail locations. In addition to our prompt and reliable customer service, each order over £200 qualifies for free worldwide shipping. We encourage you to contact us at +44 (0)800 731 8118 or email [email protected] for ordering assistance, questions, or concerns.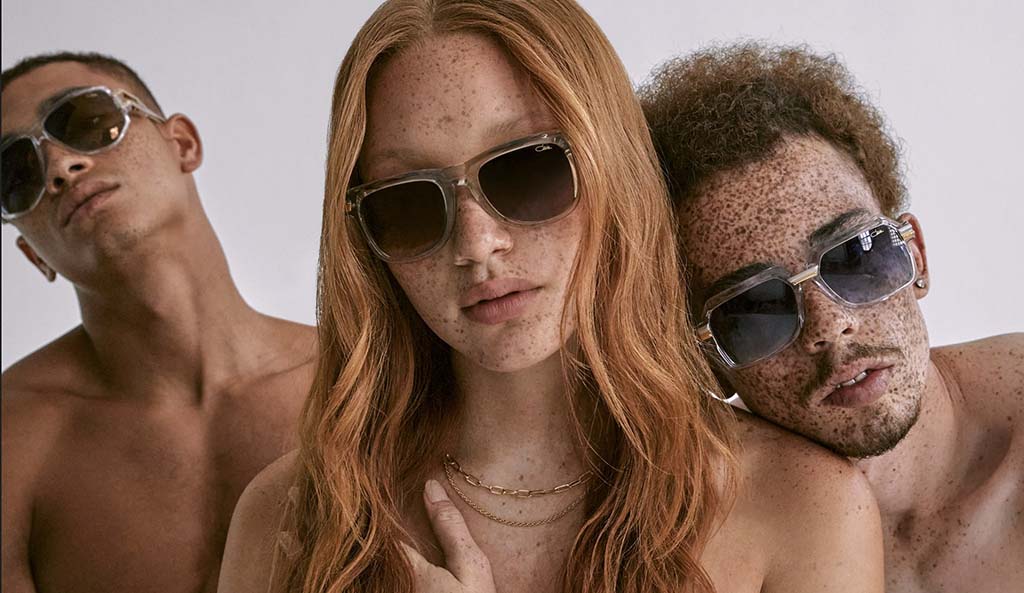 Show all options
For a more precise fit, please choose:
Select your pupillary distance