Loading...
Swarovski Sunglasses

Swarovski Sunglasses for that extra sparkle
In 1895, Swarovski was founded in Tyrol, Austria, by Daniel Swarovski and his partners Armand Kosmann and Franz Weis. From an early age, Daniel Swarovski had been the apprentice of his father, who was a glass cutter, and owned a glass factory in the Czech Republic. Swarovski became skilled in the craft of cutting glass under the tutelage of his father, and in 1892, he obtained a patent for an electric glass-cutting machine that produced crystal glass.

Bolstered by his newly patented technology, Swarovski established his namesake company in Tyrol to utilise the local electricity resources, an essential component to his patented grinding processes. At a time when diamonds were rare and were owned mostly by the elite social class, Swarovski wanted to make an affordable diamond replica, capturing attention with the stunning quality of his sparkling crystals.

After being in business for over 125 years, Swarovski now makes coveted products including glass sculptures, jewellery, home décor some of their crystals having been designed by Alexander McQueen, and the ever-popular line of Swarovski crystal embellished sunglasses. When you're looking for an opulent accessory inspired by the modern sophisticated woman, simply browse Designer Glasses for the best Swarovski sunglasses in a variety of shapes, colours, and sizes.
Our Eye-Catching Selection of Luxurious Swarovski Sunglasses
Some may say diamonds are a girl's best friend, but when you shop the selection of luxury Swarovski sunglasses at designerglasses.co.uk, you'll soon discover that crystals are making a convincing run for that title. For women who like a little bling with their sunglasses, you'll find a wide selection of Swarovski sunglasses with beautifully placed Swarovski crystals that elegantly sparkle in the sunshine.

Embrace your inner diva with Swarovski cat-eye sunglasses featuring delicate crystal embellishments, Swarovski sunglasses with gradient lenses, simple Swarovski oval sunglasses with metal frames, or classic Swarovski aviator sunglasses.

Any design you choose will feature the signature quality of the Swarovski brand, with unique adornments such as crystal clusters on the frame arm, or crystal-studded detailing around the lenses. Swarovski prescription glasses can also be made with tinted lenses to turn them into Swarovski Prescription sunglasses. With such a quality brand we recommend adding the best anti reflective coating.

Although the delicate crystal embellishments are the true star of each pair of Swarovski sunglasses, the styling, comfort, and chic design of each pair showcases the brand's commitment to fine craftsmanship and high-quality materials. At Designer Glasses, you'll find the best selection of luxury Swarovski sunglasses for women, in a variety of styles and captivating patterns enhanced by that beloved Swarovski sparkle.
Shop Our Selection of Swarovski Sunglasses Using Our Virtual Try-On Tool
We consistently strive to provide our customers with the most enjoyable shopping experience from start to finish. With our Virtual Try-On tool, our customers can try on as many pairs of Swarovski sunglasses as they'd like, and right from the comfort of home.

Through the power of augmented reality, you'll be able to ensure that your new Swarovski crystal frames will flatter your face and your own unique features. Now you can shop with confidence knowing that when you make your purchase, you'll get exactly the look you desire!
Order Your Swarovski Sunglasses in Just A Few Simple Steps
At Designer Glasses, we've devised a simple ordering process to ensure you are able to order your Swarovski sunglasses as quickly and easily as possible. Once you've chosen your favourite pair of Swarovski designer sunglasses, you will select your desired "Frame Colour" and "Frame Size".

After reviewing your selections for accuracy, simply add your customised sunglasses to your basket for checkout and pay using your preferred payment method. Upon payment confirmation, you'll be given an estimated date of delivery, so that you'll know exactly when to expect your brand-new Swarovski sunglasses.
Designer Glasses Offers Only 100% Authentic Swarovski Designer Sunglasses
We are proud to offer our customers superior luxury at affordable prices, with a carefully curated selection of the best Swarovski sunglasses for women that are guaranteed to be 100% authentic. Each pair is available at an excellent value, with prices up to 50% less than traditional high street shops.

With every purchase, customers will receive a certificate of originality, a 12-month warranty, an official brand case, and a soft cleaning cloth for damage-free lens cleaning. And of course, your new pair of high-quality luxury Swarovski sunglasses will feature the captivating sparkle of genuine Swarovski crystals, always finely placed with precision.
Our Customers Are Always Front of Mind
At Designer Glasses, our commitment to our customers drives our everyday business operations forward with focused quality and individual attention. We offer free worldwide shipping on orders over £200 every day, and we're always working to source the latest designs, trends, and styles to provide the best selection of Swarovski sunglasses.

If you have any questions about our brands, ordering process, or inventory, please give our team of eyewear specialists a call at +44 (0)800 731 8118 or email [email protected].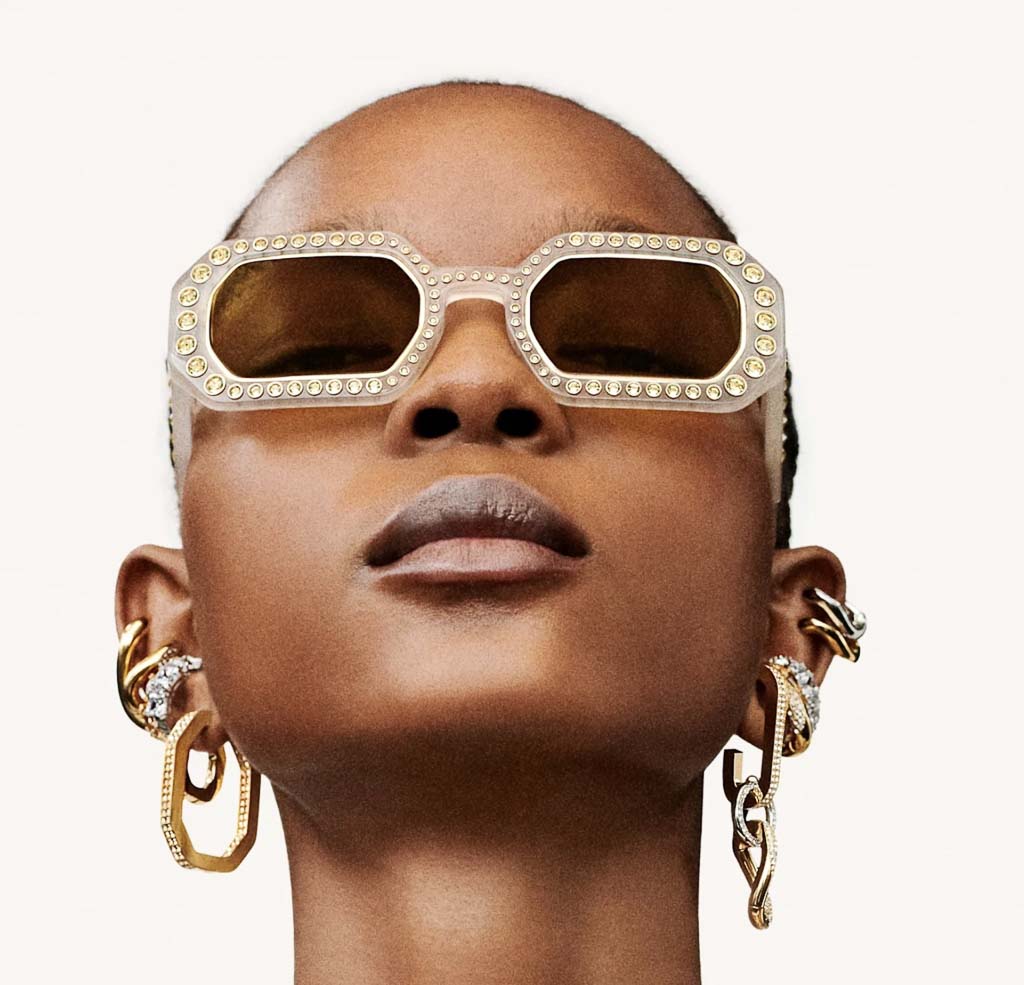 Show all options
For a more precise fit, please choose:
Select your pupillary distance