Loading...
Michael Kors Sunglasses

Michael Kors Sunglasses online for women
From an early age, visionary American designer Michael Kors had his eyes on the fashion industry. Kors became enamoured with fashion as he followed his mother's modelling career closely, and as a teenager, he indulged his belief of spirit by designing and selling clothes out of his parents' basement.

These humble beginnings paved the way for greatness to come, and in 1981, he introduced his first collection for his Michael Kors women's label at Bergdorf Goodman. From 1997 Kors was also the first women's ready-to-wear designer of the fashion brand Celine, and in late 2003, he left Celine to focus his attention on growing the Michael Kors brand into what it is today.

Both celebrities and everyday people are keen on Michael Kors designer sunglasses, with followers including Jennifer Lopez, Heidi Klum, Michelle Obama, and other A-list celebrities keen to make a fashionable appearance from the red carpet to the real world.

With styles that feature wide-ranging appeal to suit every occasion, Michael Kors sunglasses for men and women are a classic choice to add to your accessory collection. Designer Glasses brings you the best selection of Michael Kors designer sunglasses all in one place, offering a touch of luxurious style for our fashion-forward customers across the globe.
The Best Selection of Michael Kors Sunglasses at Competitive Prices
Michael Kors sunglasses have been an enduring symbol in quality eyewear for decades, and at Designer Glasses, we've sourced the best selection of luxury sunglasses by this brand in a variety of eclectic shapes, sizes, colours, and unique designs. From the latest trends to tried-and-true classics, you'll find the perfect pair of shades to fit your fashion personality, whether your style is modern or minimalist.

With just enough quirky style to appease even the boldest eyewear trendsetters, Michael Kors sunglasses combine quality, lightweight durability, and creative innovation. There are numerous sophisticated choices, including Michael Kors cat-eye sunglasses for women, Michael Kors modern rimless frames, and Michael Kors classic black frames, made with high-quality acetate for comfort and all-day elegance.

For a delicate and decidedly feminine look, try out Michael Kors butterfly shaped sunglasses and Michael Kors heart shaped sunglasses, enhanced with subtle embellishments and timeless rose gold metal accents.

Michael Kors designer sunglasses allow consumers to have fun with colour and contrast, offering plenty of bold and unique lens options to choose from. Add some colour to your world with oranges, violets, blues, and posh pinks, plus traditional shades of black and brown, all with 100% UVA/UVB protection from sun and glare.

Browse our full range of sunglasses collection including Saint Laurent, Tom Ford, Polo Ralph Lauren, Emporio Armani, Gucci, Ted Baker and Ray-Ban for style that transcends age and gender, encompassing a universally beloved brand for luxury and budget-conscious consumers alike.
Use Our Virtual Try-On Sunglasses Tool for A Realistic Shopping Experience
Even when you're browsing our online selection of Michael Kors sunglasses at home, you can still get a unique preview of how your favourite frames will look. At Designer Glasses, we offer our customers the power of augmented reality technology with our Virtual Try-On tool, an innovative feature to enhance your shopping experience. Once you find the best pair of Michael Kors sunglasses, simply use our tool to get a realistic view of how your favourite frames will look with your own facial features.
Order Your New Michael Kors Sunglasses in Just A Few Simple Steps
In only a few steps, your designer sunglasses will be on the way to your doorstep. After choosing your favourite pair from our online selection of Michael Kors sunglasses for men and women, make your choice with your preferred "Frame Colour" and "Frame Size". Then add your sunglasses to your basket and head to the checkout screen, where you can pay using your preferred payment method. After your order is confirmed, you'll receive an expected delivery date for your new sunglasses.
We Offer Only Authentic Michael Kors Sunglasses
Designer Glasses is proud to feature the best online selection of 100% authentic sunglasses for men and women, at competitive prices up to 50% off traditional retail pricing. Each pair of Michael Kors sunglasses will come with an official branded hard case, a soft cleaning cloth, a certificate of origin, and a 12-month manufacturer warranty. The Michael Kors brand name will be printed smoothly on the upper left lens, and the model number will typically be visible on the inner arm of the frame.
Customer Service Excellence Is at The Forefront of Our Business
At Designer Glasses, we offer our customers a memorable shopping experience as they browse our wide selection of Michael Kors sunglasses. Our experienced eyewear specialists are available to answer any questions you may have about our inventory or ordering process, and with every order over £200, customers receive free international shipping. For further assistance, please give us a call at +44 (0)800 731 8118 or email [email protected].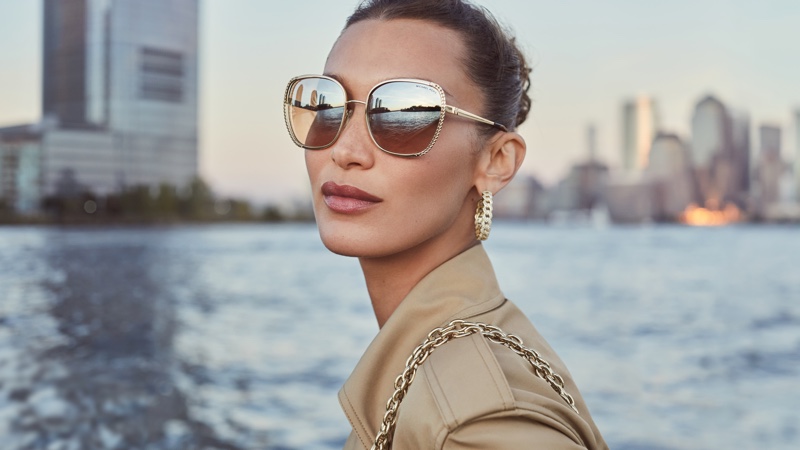 Show all options
For a more precise fit, please choose:
Select your pupillary distance