Loading...
Tom Ford Sunglasses

Tom Ford Sunglasses are the ultimate clothing accessory
Tom Ford is known throughout the fashion industry as an innovative leader who developed his start working for the struggling House of Gucci in the early 90s. With his provocative creativity, he gained a name that associated on the cutting edge of sophistication alongside high fashion. His thought-provoking campaigns for Gucci put the brand at the forefront of the industry, inciting mainstream desirability.

After years spent as the Creative Director for both Gucci and Yves Saint Laurent, Tom Ford branched out in 2005 to create his own fashion brand, encompassing menswear, beauty, eyewear, and accessories.

Tom Ford positioned his brand to appeal to well-dressed and well-travelled individuals who appreciate the finer things in life, as well as cultured style mavens who are bold and empowered through their fashion choices.

Tom Ford designer sunglasses have become a favourite of celebrity fans including Brad Pitt and Kanye West and have been seen on many red carpets over the years. Just like James Bond did when he was wearing the Tom Ford Snowdon Sunglasses in Spectre on the scenes shot in Rome! He also wore the Tom Ford Henry Vintage Wayfarer pair in Morocco. Angelina Jolie also loves the brand as she was caught rocking a pair of Tom Ford Whitney this season.

All of Tom Ford's sunglasses offer standout quality and immaculate attention to detail. At Designer Glasses, we bring the luxury quality and distinctive style of Tom Ford eyewear to the everyday consumer, man and woman, with appealing prices and styles to please everyone.

There is no doubt Tom Ford has engraved his name in the hall of fame designers and deserves to be recognised as a great fashion game changer just like Alexander McQueen, Calvin Klein, Jimmy Choo and Michael Kors.
We Have the Perfect Pair of Tom Ford Sunglasses To Suit Your Style
At designerglasses.co.uk, our selection of Tom Ford designer sunglasses for men and women encompasses a variety of the most popular styles and best-selling designs available for 24 hour dispatch from our extensive stock. Each pair is not only considered the height of fashion, but also guarantees full UVA and UVB sun protection. Tom Ford sunglasses are also available with polarised lenses to reduce glare, or prescription lenses to blend comfort and function with the iconic Tom Ford style.

Impeccable attention to craftsmanship is a hallmark of Tom Ford luxury designer sunglasses, and the quality of each pair is enhanced by quality materials with chic patterns, trendy colours, and unique detailing. Every fine detail from the thin metal rims to the delicate bridge designs is created to offer a sophisticated flair to even the most classic styles.

If you're looking for standout style rather than just subtle elegance, choose from a wide variety of different coloured lenses, including traditional tints, rose-coloured lenses, and gradient lens options. Or for bold trendsetters, pick your favourite Tom Ford polarized sunglasses with full-rim acetate frames that are a little bit geek, and a little bit sleek and for the ladies, perhaps a cool Tom Ford Cat Eye. The sunglasses tints from this designer offer as good a protection as you would expect from Ray-Ban. No matter what your final preference may be, each pair of Tom Ford luxury designer sunglasses is instantly recognisable by the iconic golden "T" logo wrapping around the corners of the frame. In the optical world the T-logo is as famous as the man playing polo on a horse, that you will see on Polo Ralph Lauren apparel.

Tom Ford designer eyeglasses and sunglasses are available from the Designer Glasses online retailer. With many styles to choose from, the customer can make a statement with the luxurious opulence of Tom Ford designer glasses for men, women, and children.

Our best selling Tom Ford sunglasses are: Tom Ford FT 0237 Snowdon, Tom Ford FT 0871 Wyatt, Tom Ford FT 0447 Jacob and Tom Ford FT 0334 Dimitry.
Select The Perfect Pair of Tom Ford Sunglasses with Our Virtual Try-On Tool
Make sure your Tom Ford designer sunglasses will offer the polished look of perfection that you desire by using the designerglasses.co.uk Virtual Try-On Tool. We understand how disappointing it would be to receive your new Tom Ford sunglasses, and then realise they simply don't flatter your face in the way you thought they would.

Now you can benefit from the power of augmented reality to try on your favourite frames before you buy. Once you've found that perfect pair, head straight to the checkout with confidence and peace of mind.
Receive Your Tom Ford Sunglasses Quickly with Our Simple Ordering Process
At Designer Glasses, we have made the ordering process as easy as possible for our valued customers, and your new Tom Ford designer sunglasses can be on their way in just minutes. After browsing our collection of Tom Ford designer sunglasses for men and women, choose your favourite frames, and then select your preferred "Frame Colour" from the variety of choices for each model. If there is an option for "Frame Size", you can also customise the size to best suit your facial features.

Add your personalised Tom Ford sunglasses to your basket, make payment, and you'll receive an instant confirmation with expected delivery date.
designerglasses.co.uk Offers an Extensive Selection of 100% Authentic Tom Ford Sunglasses
At Designer Glasses, we only sell 100% authentic Tom Ford designer sunglasses for men and women, so you can always shop with guaranteed assurance. We are proud to offer a carefully curated selection of the most popular Tom Ford sunglasses styles, all up to 50% off traditional retail prices.

Each pair comes with a certificate of authenticity, a 12-month manufacturer's warranty, and an official Tom Ford case and cleaning cloth. You'll also notice the Tom Ford logo etched in a classic arch on the upper corner of the left lens, along with the model and serial number on the inner left arm.
Our Commitment to Unsurpassed Customer Service Excellence
At Designer Glasses, customer satisfaction is our number one priority, and we seek to establish long-term relationships with our loyal customers. We are proud to also offer Free worldwide shipping for every order over £200. With our uniquely personal online shopping experience, our customers can find the perfect pair of sunglasses to suit their needs, or they can visit the staff at our retail locations for in-person service.

If you have any questions about our online selection or ordering process, please contact us at +44 (0)800 731 8118 or email [email protected].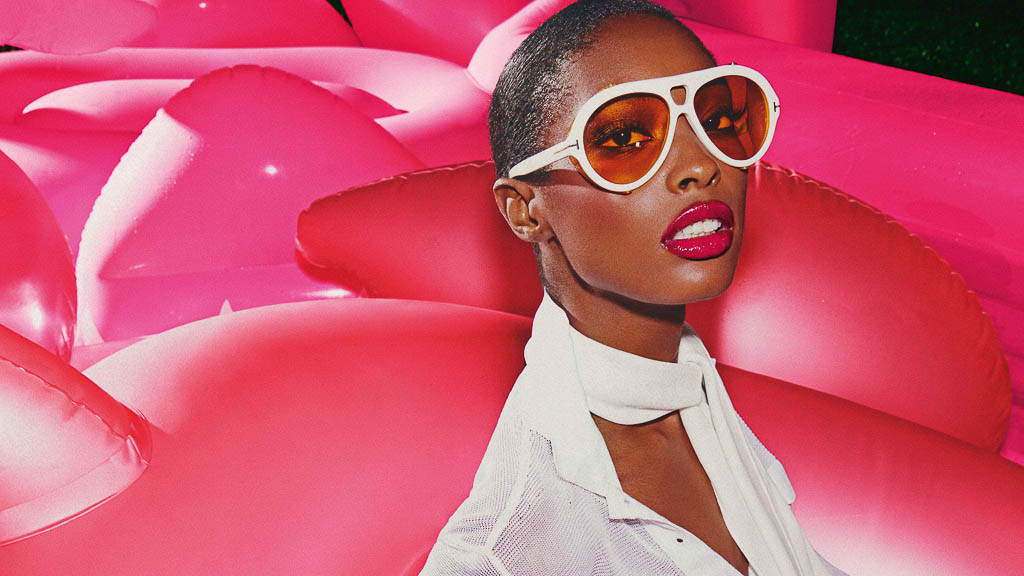 Show all options
For a more precise fit, please choose:
Select your pupillary distance