Loading...
Tiffany Sunglasses

Tiffany Sunglasses, iconic feminine chic
Tiffany & Co was founded in 1837 in Brooklyn, Connecticut, by Charles Lewis Tiffany and John B. Young, who first started as an emporium of fancy stationery and paper products. In 1853, Charles Tiffany took over the company name and it became Tiffany & Company. It was also at this time that Tiffany made its most essential transition to focus on fine jewellery, with a retail presence in major cities around the world.

In January 2021, Tiffany & Co was acquired by LVMH, a renowned French conglomerate of iconic luxury brands including Christian Dior, Fendi, and Givenchy, with headquarters in Paris. Tiffany designer sunglasses remain one of the brands most popular accessories, with innovative designs inspired by the brand's iconic jewellery, including fine details and intricate embellishments that are both elegant and glamorous.

At designerglasses.co.uk, we offer a unique selection of current Tiffany sunglasses for women who want to showcase their new eyewear.
The Perfect Selection of Tiffany Sunglasses To Suit Your Style
Even before Audrey Hepburn captured our hearts in Breakfast at Tiffany's, the brand has been a renowned symbol of fine craftsmanship and enduring elegance to fashion-forward women around the world. Designer Glasses has an extensive selection of the best Tiffany sunglasses that define the modern standard of excellence in the world of luxury eyewear. The iconic blue and illustrious logo of Tiffany & Co are found within many of the Tiffany designer sunglasses options, and each pair has 100% UVA/UVB sun protection.

Also the same company produces Ray-Ban sunglasses so they share the same leading technology that protects your eyes from glare, UV light and the general health of the eyes. The high-quality metal and acetate frames are manufactured in Italy, made with the finest craftsmanship to ensure comfort, style, and lightweight durability for every wearer.

Each pair of Tiffany designer sunglasses combines grace with dignity, and feminine style with modern design. At Designer Glasses, we offer striking options with butterfly frames and Cats Eye frames, crystal embedded sunglasses for extra sparkle, and stylish variations of simple oval, rectangle, or hexagonal shapes.

It is the fine details and intricate patterns that truly make Tiffany sunglasses stand out from the rest, and many styles can be ordered with gradient tinted lenses in trendy violet, azure blue, or another colour of choice.

Browse our wide selection of Tiffany sunglasses to fit every personal style and budget, perfect to pair with everything from a little black dress to casual wear. The class and sophistication of the Tiffany brand has endured for nearly two centuries, endearing every new generation with its commitment to quality design, simple beauty, and refined elegance.

Tiffany sunglasses online for women are manufactured by the same company that produce Polo Ralph Lauren and Michael Kors sunglasses so you can be assured of the best materials and designer processes being used.

Tiffany Sunglasses for women are especdially standout when it comes to the stylish Cats Eye sunglasses shape.
Purchase Your Tiffany Designer Sunglasses With Confidence Using Our Virtual Try-On Tool
At designerglasses.co.uk, we want to help you find the perfect pair of Tiffany designer sunglasses. You can now use our augmented reality tool to Virtually Try-On glasses and see how they will look on you, with your unique face shape and eye colour. Our online glasses store now has an extensive range of Tiffany designer sunglasses so that you can be sure you'll find the perfect pair to match your face.
How To Order Your Tiffany Sunglasses online
The team of eyewear specialists at designerglasses.co.uk want to make the ordering process as easy as possible for our valued customers. When you've selected your favourite pair of Tiffany designer sunglasses, you'll be able to further bespoke your new sunglasses with your preferred "Frame Colour", which includes everything from gradient lenses to polarised options.

Next, select your "Frame Size", and then add your customised sunglasses to your basket for checkout. Upon payment, you'll be given an estimated date of delivery, and your new pair of Tiffany designer sunglasses will be on the way!
designerglasses.co.uk Offers Only 100% Authentic Tiffany Sunglasses
Designer Glasses offers our customers a carefully curated selection of the best Tiffany designer sunglasses at affordable prices that are up to 50% off traditional retail pricing. Each pair of Tiffany sunglasses on our website is 100% authentic, and with every purchase, customers will receive a certificate and 12-month manufacturer warranty.

Each pair of new Tiffany sunglasses is protected with an official Tiffany & Co case, a glasses bag, and a soft cleaning cloth. The bag and the cloth will be made of the same material, and all items will be coloured in matching shades of Tiffany Blue, with the iconic logo stamped precisely on each surface. Your new Tiffany sunglasses will also typically feature the Tiffany & Co logo etched smoothly on the inside arm of the frame, along with the model number.
At designerglasses.co.uk, Our Customers Always Come First
Our commitment to our customers is the essential foundation of our company, and we are proud to offer free worldwide shipping on orders over £200 every day. We are always working to source the best selection of Tiffany sunglasses, including the latest trends, designs, patterns, and colours. The team at Designer Glasses is always available to our customers, both online and in-store, to answer questions about our product selection, sizing, or bespoke options.

Give us a call at +44 (0)800 731 8118 or email [email protected].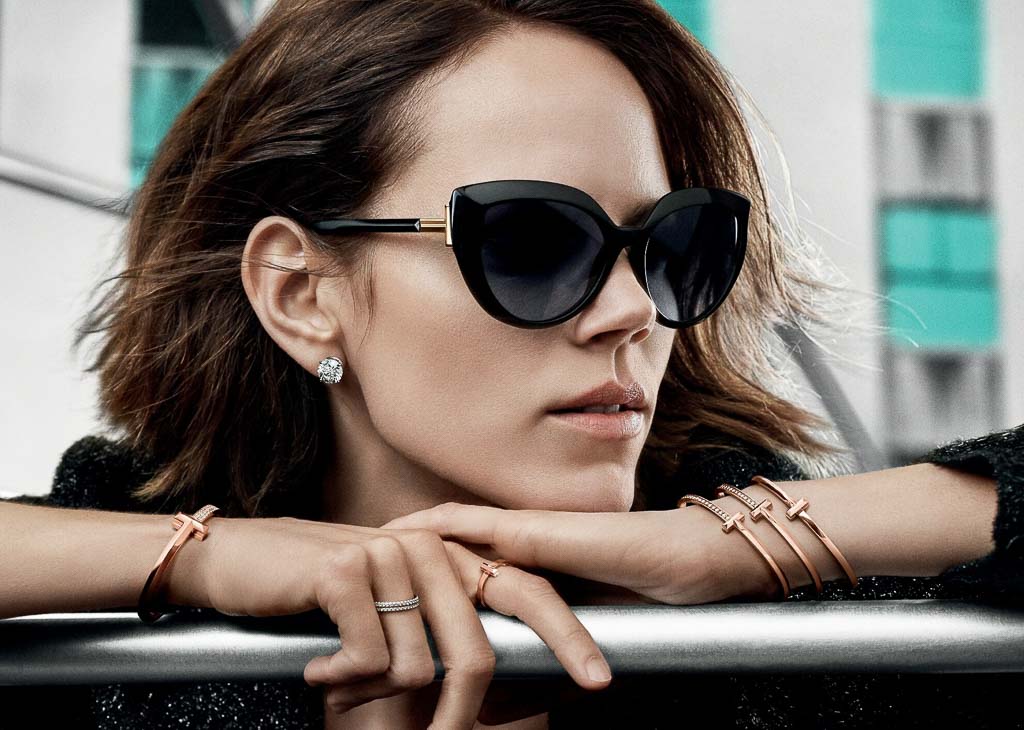 Show all options
For a more precise fit, please choose:
Select your pupillary distance