Loading...
Versace Designer Glasses

Versace Glasses for women and men
In 1978, Gianni Versace opened his very first luxury boutique in Milan, Italy, and in the decades since, Versace has been an enduring Italian fashion house that appeals to a wide range of individuals all over the world. With everything from haute couture to jewellery to Versace prescription eyewear, the Versace brand is the very embodiment of high fashion and fine Italian luxury.
Celebrities including Jennifer Lopez, Elton John, Elizabeth Hurley, Jennifer Aniston, and even Princess Diana have all had iconic Versace moments, and the world of couture fashion continues to be inspired by the brand's innovative designs.
Until his tragic death in 1997, Gianni Versace was at the centre of the Versace brand, and his guiding influence was on everything from creative design to retailing. Upon his passing, the control of Versace shifted to Donatella Versace and Santo Versace, who continue to ensure that Versace never strays from Gianni's vision for quality, elegance, and daring artistic inspiration.
Versace's influence remains present in the inspired designs of the Versace prescription eyewear collection, and as you browse the selection of Versace glasses and frames at Designer Glasses, you'll find a fresh and modern design to suit your personal style.
Versace Luxury Eyewear Designs
In 2003, Versace joined forces with Luxottica Group to manufacture and distribute the Versace prescription eyewear collection, bringing affordable luxury to the everyday wearer of prescription glasses. Whether your eyewear style is fun and funky, or serious and sophisticated, designerglasses.co.uk has the best selection of Versace prescription eyewear for men and women of all ages and in fact have a large glasses online stock for many brands for 24-hour dispatch including Versace eyewear.
In every pair of Versace prescription glasses, the luxurious Italian craftsmanship is truly apparent in the precise and extravagant details. At Designer Glasses, you'll find authentic Versace glasses embellished with opulent gold accents, intricate patterns etched on the frame arms, and the iconic Versace logo on the frames or temples. Each pair of Versace glasses is trendy and chic, yet simple and elegant for everyday wear or special events.
You'll be amazed at the variety of Versace prescription eyewear styles, including semi-rimmed metal frames for women, Versace transparent frames, and several pairs of Versace glasses in Versace's classic black and gold colour combination that has been Versace's signature for decades.
For the true sophisticate, there are Versace glasses with a modern rimless design that are universally flattering, and offer the epitome of chic understated style. For a funkier style, try a pair of Versace retro glasses inspired by the vintage cat-eye style of the 1950s and 60s, but with a modern Versace twist. All Versace glasses are made of the finest materials, including acetate, titanium, and stainless steel, ensuring both comfort and lightweight durability.
Versace designer eyewear bridges the gap between young and old, no matter the style, bringing the visionary brand to those who long to incorporate a touch of luxury into their everyday lifestyle. Whether you are looking for classic oval or round glasses, or angular Versace frames for a sharp modern look, Designer Glasses offers the best selection of authentic Versace prescription eyewear at the best prices.
Use Our Virtual Try-On Tool While Shopping for Your Versace Glasses
At Designer Glasses, we always strive to improve our customer experience by adding intuitive features and modern technology. While you're browsing our selection of Versace glasses for men and women, use our innovative Virtual Try-On tool for a peek at how your favourite Versace frames will look with your unique features. Driven by augmented reality, our tool allows you to virtually try on as many pairs of Versace glasses as you'd like, right from the comfort of home, until you find your perfect match.
How To Order Your New Versace Glasses
Once you've made your decision, simply begin the ordering process to customise your new Versace glasses to your exact specifications. You can order your Versace glasses with or without prescription lenses, and if you choose to order prescription lenses, you'll be prompted to enter in your preferred personal details, including prescription strength, custom lens coatings, optional polarised lenses, and more.
After you've reviewed your selections to ensure accuracy, add your new Versace glasses to your basket and check out with your preferred payment option. Upon order confirmation, you'll receive an estimated delivery date. Please note that if you have ordered Versace prescription glasses, your delivery time will increase by 3 working days.
We Source Only 100% Authentic Versace Prescription Eyewear
At Designer Glasses, we only sell 100% authentic Versace glasses. Our team of experts have hand selected the best Versace glasses at affordable prices, which are typically 50% less than traditional retail pricing. You will have the ultimate protection of your Versace glasses with the renowned Versace logo printed on a branded hard case and matching branded box.
Each pair of Versace glasses also comes with a certificate of origin, a 12-month manufacturer warranty, and a soft cleaning cloth to prevent damage or scratches to your lenses. The inner right frame arm will feature the Versace brand name, along with a 'Made in Italy' stamp, and a CE logo to confirm European manufacturing quality and compliance.
The model number of your Versace glasses will be printed on the inner left frame arm, which will match the model number on the box, and other details will be present on the left frame arm as well.
Providing An Excellent Customer Experience Is Our Highest Priority
At Designer Glasses, our top priority is providing customer satisfaction with a superior shopping experience, in our online boutique as well as our retail locations. Every order over £200 qualifies for free worldwide shipping, every day. If you have any questions about our Versace glasses inventory, the ordering process, or general enquiries, please give us a call at +44 (0)800 731 8118 or email [email protected].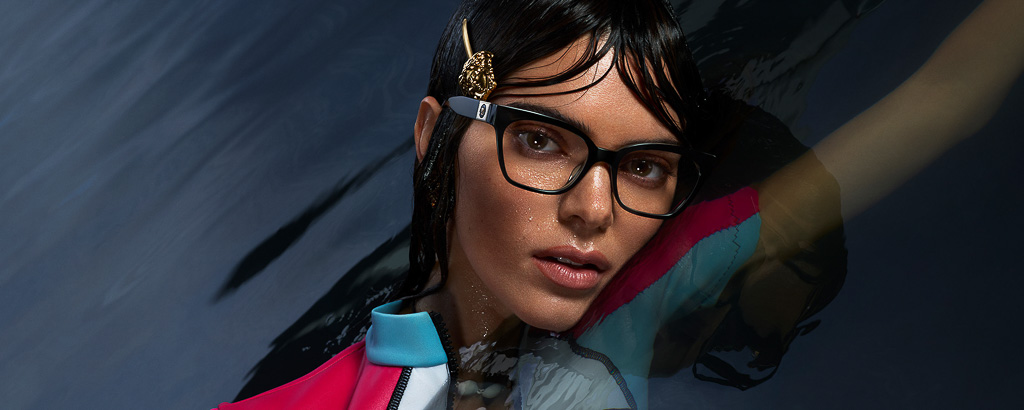 Show all options
For a more precise fit, please choose:
Select your pupillary distance