Loading...
Swarovski Designer Glasses

Swarovski Glasses sparkle like a star
Renowned the world over for making products with the highest quality of Austrian crystal, Swarovski was founded in 1895 by Daniel Swarovski, along with his partners Armand Kosmann and Franz Weis. Daniel Swarovski had been his father's apprentice from an early age, spending time learning the art of glass-cutting in the family glass factory, which was located in the Czech Republic.

As the young Swarovski's skills began to grow and develop under the watchful eye of his father, he diligently worked to perfect his design for an innovative electric glass-cutting machine that produced a high-quality of crystal glass.

In 1892, he patented his machine, and established his new crystal company in Tyrol, Austria, to take advantage of the local hydroelectricity to aid his energy-dependent grinding processes. Swarovski's vision to create an affordable diamond replica that would simulate the sparking quality of a real diamond was becoming a reality.

Over the past 125 years, the Swarovski brand has grown to encompass glass sculptures, jewellery, home décor, and a line of Swarovski designer eyewear that brings shimmering sparkle to the average wearer of prescription glasses. Find the best selection of Swarovski glasses for women at Designer Glasses, featuring Swarovski prescription eyewear in a variety of shapes, styles, and colours, all with a personalised touch of elegant opulence.
Featuring The Best Swarovski Prescription Glasses at The Best Prices
An extension of their stunning crystal-encrusted jewellery that has been treasured for decades, Swarovski prescription eyewear hits the mark perfectly for women who desire glasses that are chic, classic, and trendy.

Prescription eyewear purists will love our selection of classic Swarovski eyewear styles that feature discreet detailing and simple frames, in understated round, square, or rectangle shapes. You'll find Swarovski glasses with full rimmed metal frames, Swarovski rimless glasses that are sleek and sophisticated, and Swarovski glasses in bold colours, such as bright blues and reds.

For women who enjoy making a statement through their prescription eyewear, our selection of crystal-studded Swarovski eyewear allows you to infuse a little glamour into your daily life. We have the best Swarovski glasses for women that perfectly capture modern femininity.

Through purposeful use of playful patterns and unique crystal embellishments that flatter every face. Whether you're looking for Swarovski cat-eye frames in thick acetate, round Swarovski frames surrounded by crystals, or Swarovski glasses with a crystal-studded nose bridge, you'll find the best selection at Designer Glasses.

The luxurious quality of Swarovski eyewear collection is truly eye catching and will inspire you to add sparkle to your eyewear at any age. At Designer Glasses, our selection of Swarovski prescription eyewear for women offers the perfect combination of sleek and sophisticated, softened by exquisite detailing amidst the genuine sparkle of Swarovski crystals. For the best results choose a good quality of anti-glare lens.
Use Our Virtual Try-On Tool to Find the Most Flattering Swarovski Glasses
In every aspect of our business, we strive to offer our customers an online shopping experience they won't find anywhere else. Our innovative Virtual Try-On tool provides you with the ability to virtually try on our extensive selection of Swarovski prescription eyewear from the comfort of home, using only your laptop or smartphone. When you use the power of augmented reality, you'll be able to make your purchase with confidence, knowing that your Swarovski glasses will look as great on you as they do on your screen.
Our Ordering Process Is Fast and Easy
Ordering a new pair of Swarovski prescription glasses has never been easier! Once you select your favourite frame style, you'll be able to begin the customisation process, where you'll be prompted to enter your personal lens preferences and prescription details.

If you're ordering your Swarovski glasses without prescription lenses, you will skip this step and head straight to checkout. After reviewing the accuracy of your personal details, add your newly customised Swarovski glasses to your basket and head to the checkout screen. Upon payment confirmation, you'll also receive an expected delivery date. Please note that delivery time of your Swarovski glasses with prescription lenses will include 3 additional working days.
Designer Glasses Sources Only 100% Authentic Swarovski Prescription Eyewear
At Designer Glasses, we source only the highest quality of 100% authentic Swarovski prescription eyewear, offered at affordable prices that are up to 50% off what you will find in traditional high street shops. With each purchase of Swarovski prescription eyewear from Designer Glasses, you'll receive a certificate of authenticity and a 12-month manufacturer's warranty to provide additional peace of mind.

Your new glasses will also come with an official brand case and a soft cloth for damage-free lens cleaning. Each pair of Swarovski glasses features lightweight and durable comfort for everyday wear, alongside the enchanting shimmer of carefully placed authentic Swarovski crystals.
Our Dedication to Customer Service Is Our Top Priority
Our commitment to providing the highest quality of customer service is the foundation of our business, and whether you are shopping in our online shop or in one of our retail locations, our team of eyewear specialists is always ready to assist. With every purchase, our customers enjoy free worldwide shipping on orders over £200, and we're always working to provide a thoughtfully curated selection of the latest trends in Swarovski eyewear.

Should you have any questions, we encourage you to give us a call at +44 (0)800 731 8118 or email [email protected]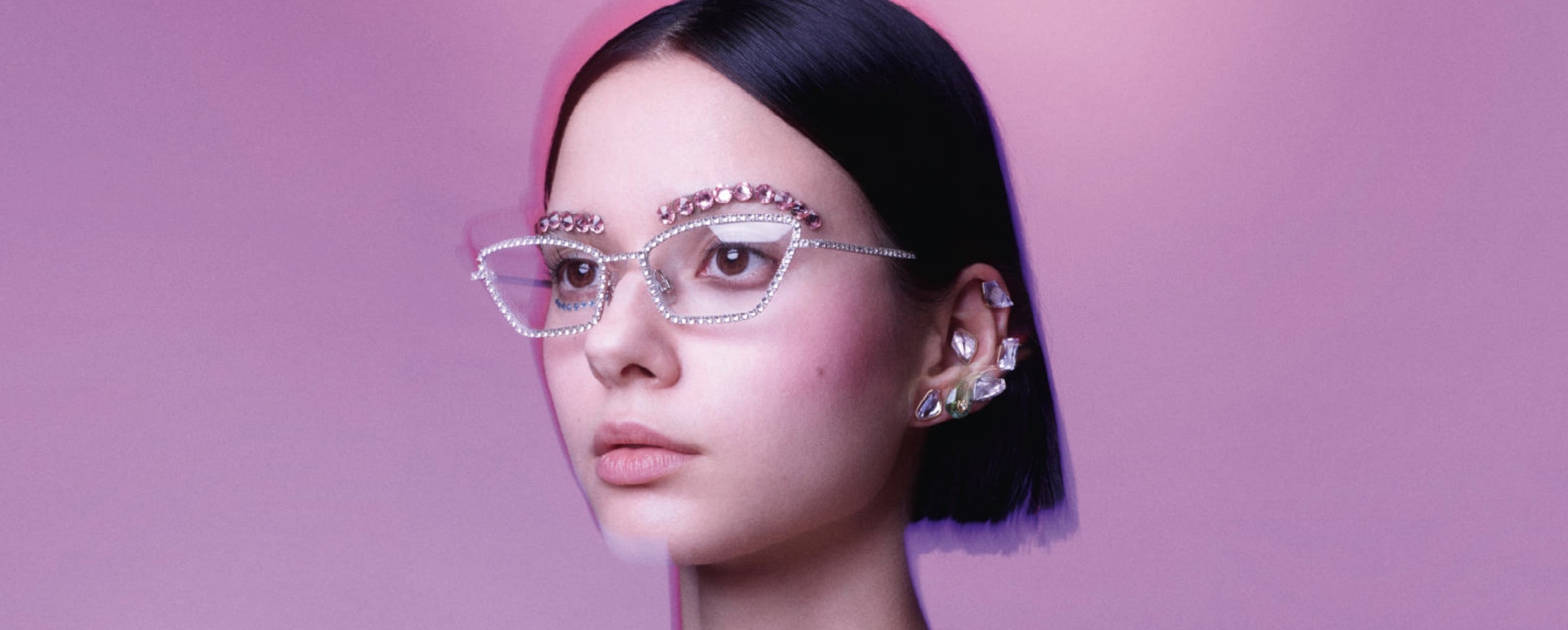 Show all options
For a more precise fit, please choose:
Select your pupillary distance