Loading...
Chloe Designer Glasses

Chloe Glasses chic feminine eyewear
Founded in Paris 1952 by Egyptian Gaby Aghion, who was born in Alexandria a middle eastern city, Chloé is a French luxury fashion house. The Chloé brand has proven to be extremely successful and stays true to the original founder's ethos of creating a symbolic brand.

They provide a wide range of eyewear collection that are vibrant, modern and versatile but still instilling a modern twist. Chloé truly creates works of art and is often compared to the likes of Saint Laurent, Alexander McQueen and Bottega Veneta.

Over the years, many famous designers have provided the creative direction for this iconic brand including Karl Lagerfeld and Stella McCartney. The latest creative designer was Natacha Ramsay-Levi who left in 2020, shortly to be taken over by Gabriela Hearst. Gabriela's debut collection was announced in March 2021 which prevailed to be a huge success. She featured ready to wear clothes, shoes, shoulder bags and accessories in the most luxurious textures.
Modern day Chloe glasses
Today, the new Chloé collection is the epitome of luxury chic and worn by fashion conscious sophisticated women over the world. Contemporary design with luminous materials and elite craftsmanship.

Many celebrities such as Madonna, Emma Stone, Cameron Diaz and Katie Holmes have looked beautiful in Chloé at various public events. Very much a feminine choice as compared to Ray Ban which is generally unisex in design.

The Chloe glasses collection oozes charm which is reflected in its ready to wear collection (Prêt-à-porter). Using delicate colour palettes, the Chloé eyewear collection features lighter frames with jewelled embellishments and detailing.

The colour tones and textures of Chloe glasses are very well complimented by the various shapes of the lenses. They are made with the finest luminous materials that give an impression of lightness and refinement. With various shapes ranging from butterfly to cat eye they provide a vintage yet contemporary look.

Chloe eyeglasses come with a lovely soft cream coloured case with a branded cleaning cloth. We recommend you have a look at the Chloe CH0022O which is a quirky chic hexagonal metal rim frame. One of the unique markers of these glasses are a teardrop embellishment at the temple tip of varying structure.

The rims of these acetate, metal and carbon fibre optical frames are designed to firmly hold the lenses without them loosening with age. Of course, we recommend the best lenses for your Chloe eyewear like the 1.6 index anti-glare which have built in scratch resistant layers.

One style in particular which we at designerglasses.co.uk love to talk about are Sofya style. This is a round, half-rimmed frame, embroidered with interchangeable charms to complete any outfit, the pinnacle of elegance as would expect from the Maision of Chloe. Nowhere better seen than in the Chloe Edith, a delicate aviator design with C-shaped bridge and leather adornment.
What you can expect from designerglasses.co.uk
At designerglasses.co.uk based on the border of London and Kent you will get a guarantee of authenticity from the global owners of Chloe, Kering. Whom amongst other luxury brands include Gucci and Saint Laurent.

If you spend over £200 (Including prescription lenses if required) then you will get Free worldwide signed for delivery. We have secure checkout powered by Braintree which is owned by PayPal. You can also spread the cost of your purchase using PayPal Credit.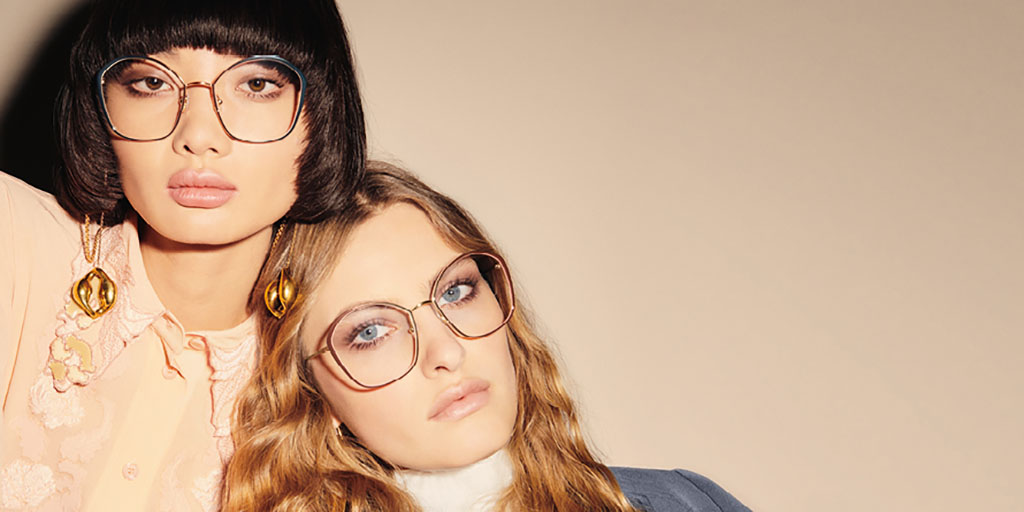 Show all options
For a more precise fit, please choose:
Select your pupillary distance