Loading...
Prada Sunglasses

Prada Sunglasses online luxury eyewear
When the conversation turns to high-fashion Italian luxury, there may be no other brand that exclusively comes to mind other than Prada. In 1913, Mario Prada and his brother Martino started the rise of the brand as an Italian luxury fashion house in Milan, Italy, and continues to amaze fashion trendsetters with its unique blend of innovation, high-fashion design, and superior Italian craftsmanship.

What began as an emporium for fine leather goods is now instantly identified for iconic designs that include ready-to-wear clothing, shoes, and of course, their collection of world-renowned Prada designer sunglasses.

Prada sunglasses are manufactured in Milan, Italy, by optical conglomerate, Luxottica Group, and feature the finest materials and highest quality which also carry on through to their other brands like Polo Ralph Lauren, Ray-Ban, Miu Miu, Jimmy Choo, Alexander McQueen. Saint Laurent which would be an equivalent brand to Prada Eyewear which is made by the Kering group.

Prada stands at the forefront of haute couture, but also allows the average consumer an opportunity to make a fashionable splurge on a timeless investment piece. Browse our selection of inspired luxury Prada sunglasses to find a classic accessory that is both stylish and timeless. At designerglasses.co.uk we also hold in stock many Prada Sunglasses for 24 hour dispatch.
Our Selection of Iconic and Fashionable Prada Designer Sunglasses
At designerglasses.co.uk, we have a finely curated selection of the best Prada sunglasses for men and women, in a variety of trendy styles and classic designs. With a widespread array of fans including everyone from celebrity fans to everyday consumers, Prada is a brand favourite from the streets of Milan to the beaches of Los Angeles, and beyond. Prada eyewear collection can also be added with prescription lenses.

Since its inception over a century ago, Prada has been an iconic industry leader, and the collection of Prada sunglasses at Designer Glasses showcases inspired designs on the cutting edge of high fashion. From the runway to real life, there is an option for everyone, with a variety of prices to fit every budget.

For standout style combined with luxury quality, we have innovative Prada sunglasses with two-toned frames and subtle metallic accents, Prada make sunglasses with both depth and dimension, and sleek rectangle styles in bold colours that are sure to turn heads.

For posh and feminine look, browse our selection of Prada Cat Eye sunglasses designs, oversized frames, or Prada rimless sunglasses for a look that is both sleek and chic. Each pair also features full UVA/UVB sun protection and glare reduction for optimal functionality and style.

We have everything from classic black Prada sunglasses, to simple Prada aviator frames for men, to delicate Prada transparent frames with gradient lenses, all made from the finest materials for the ultimate in durability and comfort for all-day wear. Browse our full selection of Prada designer sunglasses for women and men to find the perfect pair today.
Use Our Virtual Try-On Tool To Shop Prada Sunglasses With Confidence
At Designer Glasses, we strive to offer our customers the best online shopping experience possible. With our innovative Virtual Try-On tool, you can see how your new Prada designer sunglasses will look on your own face, and right from the comfort of home. Using the power of augmented reality, you'll be able to virtually try on as many pairs of Prada sunglasses as you'd like, until you find the perfect fit!
Order Your Prada Designer Sunglasses In Just A Few Easy Steps
The team of expert eyewear specialists at Designer Glasses has made the ordering process fast and easy, and in a few simple steps, your new Prada designer sunglasses will be on the way to your doorstep. Choose your favourite pair of Prada sunglasses from our online collection, then follow the prompts to select your preferred "Frame Colour" and "Frame Size".

Once you've chosen your new sunglasses to your exact specifications, add them to your basket and check out using your preferred payment method. You'll receive an order confirmation and estimated delivery date, so you'll know when to expect your new Prada sunglasses.
Designer Glasses Features Only 100% Authentic Prada Sunglasses
Designer Glasses sources and sells only the best curated collection of 100% authentic Prada sunglasses for men and women, and each pair features attractive pricing up to 50% off traditional retail pricing. When you purchase a pair of luxury Prada sunglasses from us, you'll receive a genuine certificate of authenticity, a 12-month manufacturer warranty, and an official hard Prada case which will protect your new sunglasses from damage.

Your package will also contain a plain grey lens cleaning cloth and a Prada leaflet. The inside right arm of your sunglasses will have an etched Prada logo, a 'Made in Italy' stamp, and a CE icon, which indicates that the sunglasses conform to EU regulations. The inner left arm will have the model number of your frames and will start with an 'S' to indicate they are from the Prada sunglasses collection, followed by PR and a short number/letter sequence.
Our Focus Is Always on Customer Satisfaction
At Designer Glasses, we want to make every purchase memorable for our customers, and with every order over £200, we offer free worldwide shipping. Our team of eyewear specialists also offer shopping assistance, both online and in our retail locations, and can answer your questions about our inventory, the ordering process, or other general enquiries.

If you have any questions or need help in choosing the perfect pair of Prada sunglasses, simply give us a call at +44 (0)800 731 8118 or email [email protected].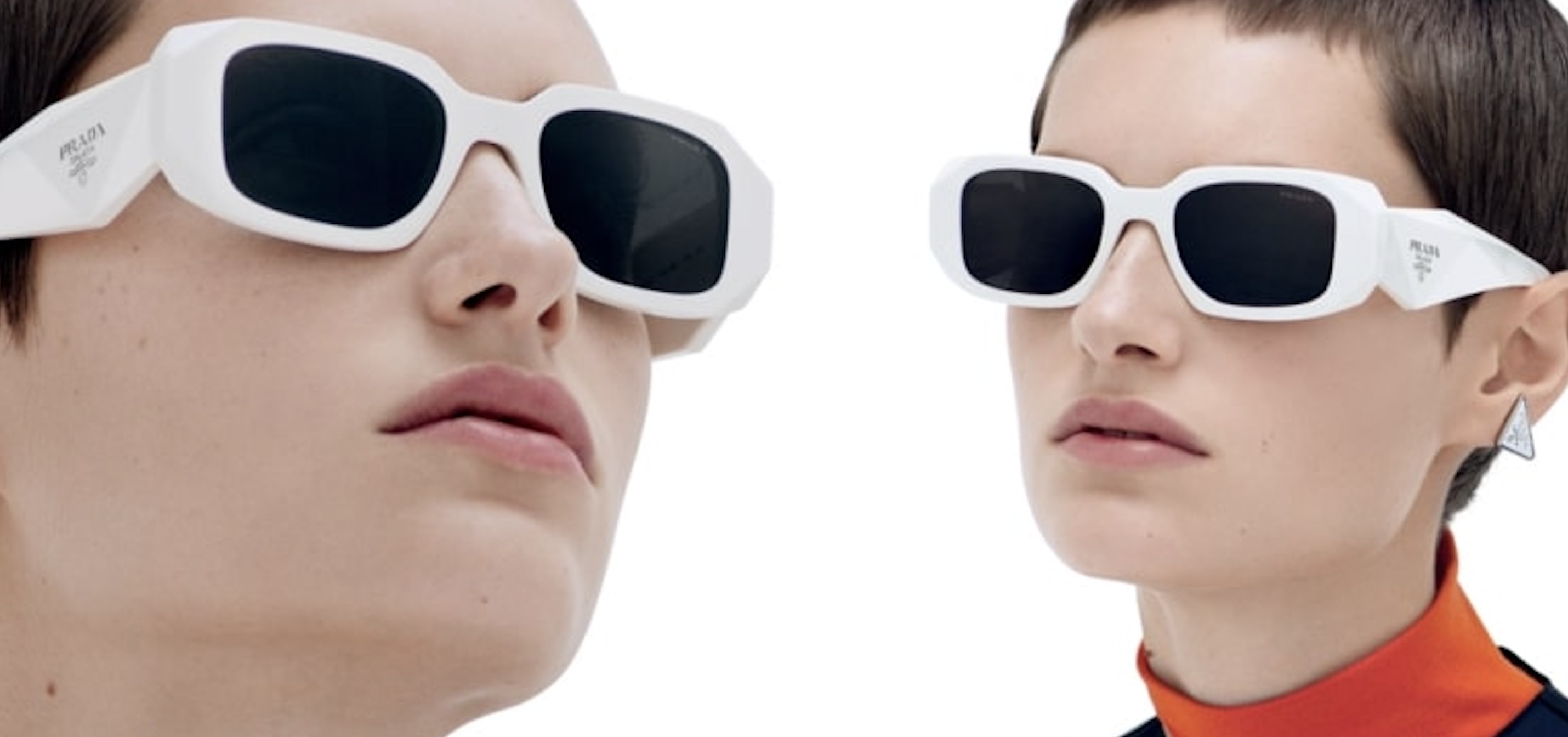 Show all options
For a more precise fit, please choose:
Select your pupillary distance