Loading...
Michael Kors Designer Glasses

Michael Kors Glasses for Chic Women
As Michael Kors blazed his way through the fashion industry as creator of his eponymous high-fashion brand, he never strayed far from his early design-inspired roots. Even from the time he began selling his designs out of his parents' basement as a teenager, Michael Kors infused creativity and innovation into every aspect of his legendary career.

Many years later, Kors launched his first women's collection under the Michael Kors label, debuting in 1981 at Bergdorf Goodman, and although there were several stumbles along the way, he never lost sight of his ultimate goal. In late 2003, Michael Kors left his position as the first women's ready-to-wear designer at Celine, in order to concentrate on growing his own brand into the fashion powerhouse that it is today.

Since that time, the Michael Kors brand has branched out to include couture clothing, shoes, jewellery, sunglasses, and prescription eyewear. Michael Kors glasses are renowned by celebrities and everyday eyewear connoisseurs alike for their high-quality design, durability, and lightweight comfort, claiming fans such as Jennifer Lopez and Michelle Obama. From sophisticated to serious, and from timeless to trending, you'll find a wide selection of the best Michael Kors glasses for men and women at Designer Glasses.
Offering The Best Michael Kors Designer Glasses for All Ages
The classic design and precise details of Michael Kors premium glasses have universal appeal for wearers of prescription eyewear that desire a subtle touch of luxury, combined with all-day comfort and flexibility. Whatever the occasion, you can't go wrong donning a pair of Michael Kors prescription glasses to enhance any wardrobe choice. At Designer Glasses, we have the best selection of Michael Kors glasses and frames in a variety of modern designs, captivating colours, and unique patterns.

Eyewear purists will love the clean, modern lines of Michael Kors glasses, enhanced by simple details that add to the supreme feeling of luxury and understated elegance. Each pair is made with precision and comfort, with features such as adjustable nose pads and lightweight premium materials, making Michael Kors designer glasses a popular choice for all ages of men and women.

At Designer Glasses, we offer wide-ranging options including Michael Kors glasses with transparent frames, Michael Kors square shaped frames with full metal rims, and Michael Kors frames with bold acetate trim along the brow line, providing just a little bit of edgy flair to an otherwise classic design. For women who dress to impress, there are stylish Michael Kors cat-eyeglasses with embellishments, and a round full rimmed style with a delicate double bridge.

When you're looking for the perfect combination of classic, trendy, and modern frame styles, shop our Michael Kors premium eyewear collection to find the perfect pair of glasses to elevate your style to a level of chic sophistication
Shopping For Michael Kors Glasses Is Easy with Our Virtual Try-On Tool
Shopping for your new Michael Kors premium eyewear has never been easier. When you use the innovative Virtual Try-On tool at Designer Glasses, you'll benefit from augmented reality technology that allows you to virtually try on your favourite frames. Try on as many pairs of Michael Kors glasses as you'd like, until you find that pair that offers the "wow factor" you desire. And the best part is, you can do it right from the comfort of home!
Ordering Your New Michael Kors Glasses
After you've chosen your favourite Michael Kors frames, it's fast and simple to customise your order to your exact specifications. If you are ordering your Michael Kors glasses with prescription lenses, you'll be asked to input your personal prescription details, preferred lens coating options, and other essential details. Once the customisation process is complete, simply verify your order details, add your new Michael Kors glasses to your basket, and provide payment using your preferred method. You'll then receive a confirmation and an expected date of delivery. Please note that if you have ordered Michael Kors prescription glasses, your delivery time will increase by 3 business days.
A Unique Selection Of 100% Authentic Michael Kors Prescription Eyewear
At Designer Glasses, we source only the best selection of 100% authentic Michael Kors glasses and frames for men and women, with discounted pricing of up to 50% off traditional high street shops. When you receive your Michael Kors glasses, you'll also receive a certificate of authenticity, an official hard brand case and cleaning cloth, and a 12-month manufacturer warranty. The Michael Kors brand name will be featured in smooth printing on the upper corner of the left lens, and the model number of your glasses will be printed on the inner frame arm.
Superior Customer Service Is Our Specialty
At Designer Glasses, our team of eyewear specialists is proud to make shopping for Michael Kors prescription eyewear a simple and enjoyable experience. We are always available to help with the ordering process, or to answer any questions you may have about our brands or inventory, both online and in our retail shops. When you order from Designer Glasses, every order over £200 qualifies for free worldwide shipping, every day.
We encourage you to give us a call at +44 (0)800 731 8118 or email [email protected], and we will be happy to respond promptly to your query.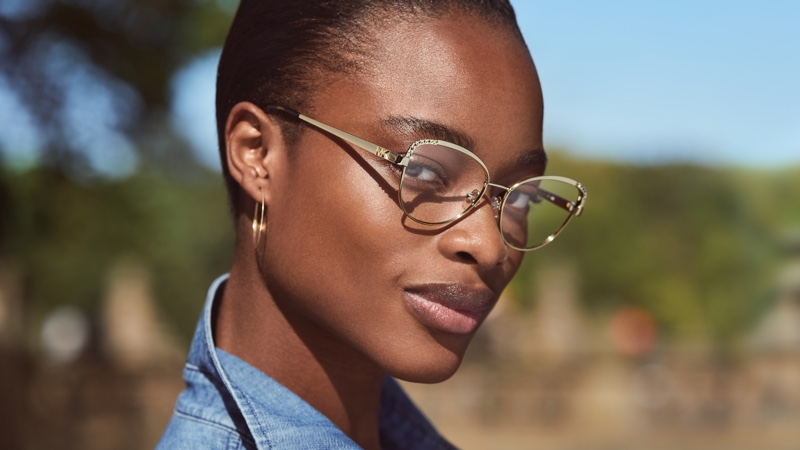 Show all options
For a more precise fit, please choose:
Select your pupillary distance