Loading...
Oliver Peoples Designer Glasses

Oliver Peoples Glasses for timeless appeal
Larry Leight and his brother Dennis began Oliver Peoples in 1986. As an optician, Leight worked with Vogue to design eyewear. When one of his designs was worn by Andy Warhol in 1987, the brand never looked back.

In 1991, the partners Larry Leight and Dennis DiMario founded Oliver Peoples luxury eyewear, which was acquired by Oakley in 2006 and then by Luxottica Group in 2007. The characteristics of the products have never been compromised. They are manufactured in Italy and Japan with the design team still based in Los Angeles.

Oliver Peoples continues to set the bar with the highest quality materials, intricate craftsmanship, and inspired vintage designs that are also effortlessly modern. Although the Oliver Peoples brand is a favourite of Hollywood celebrities, the design of Oliver Peoples luxury prescription glasses transcends Hollywood style to offer simple, classic, and distinguished options for everyday wear.
Browse the collection of Oliver Peoples luxury prescription glasses for men and women and choose your favourite pair to give you both perfect vision and timeless sophistication. designerglasses.co.uk regularly attend collections events and campaigns to stay up to date with the best qualities or characteristics of the latest model releases and will add them to our online collection.
The Perfect Selection of Oliver Peoples Glasses for Timeless Style
The lack of brash branding has served the market for Oliver Peoples designer prescription glasses well, as the brand is ultimately focused on quality, durability, and timeless design, and not simply a trendy marketing campaign.
One of the brand's most iconic frames is named after Gregory Peck, evoking the style seen in his performance in To Kill A Mockingbird. Since the movie's introduction in 1962, this style has never wavered as a popular favourite and continues to be one of the best-selling Oliver Peoples prescription glasses styles of all time.
It is evident that Oliver Peoples glasses and frames are made for all-day comfort, with functional design elements including hinge plaques and stainless-steel temple rods that offer a comforting strength.
The brand uses only the finest acetate materials that are bonded together to facilitate durability, along with a unique, one-of-a-kind pattern on each frame. The quality of the prescription lenses ensures that they can be reglazed as necessary over time, without breaking or damage.
At Designer Glasses, we have the best Oliver Peoples designs in one place, featuring an array of classic rectangle frames, panto frames, or classic round frames that offer a scholarly look of academia. And of course the best-selling classic Oliver Peoples Gregory Peck glasses for an enduring style that will look both classy and elegant.
Each pair of Oliver Peoples designer prescription glasses are a simple masterpiece of understated design whether you are looking for a vintage mid-century retro design, a classic tortoise-patterned frame, or a simple academic style.
Shop Confidently for Oliver Peoples Glasses Using Our Virtual Try-On Tool
We encourage you to virtually try on as many Oliver Peoples designer glasses as you'd like, until you find that pair that is a perfect fit for your face shape and unique features. Our Virtual Try-On Tool gives our customers empowerment to make a confident purchase, knowing that their new Oliver Peoples glasses will look as great on their face as they do on the screen.
If you know your PD and enter this in to the virtual try on, then the online product representation becomes more than just for illustration purposes only and really gives a true match to real life appearance. Please note however, because of colour variations, on screen products depicted may never exactly match that of the actual product.
Ordering Your Oliver Peoples Prescription Glasses
After browsing our collection of Oliver Peoples glasses for men and women, make your selection and begin the customisation process. With a series of intuitive prompts, you'll be asked to enter your personal details, such as lens type, special coating preferences, and prescription details. Do add anti-glare lenses to your shopping basket when choosing these frames to truly show off the quality.
Upon secure checkout, you will select your preferred payment method and will receive an estimated delivery date. If ordering from abroad please select your country so we can give you further delivery information. Please allow an extra 3 business days for delivery if you have ordered Oliver Peoples glasses with prescription lenses.
100% Authentic Oliver Peoples Glasses and Frames
Designer Glasses offers only authentic and the latest Oliver Peoples collections as prescription glasses for men and women. When you purchase your Oliver Peoples glasses from designerglasses.co.uk, you'll receive a certificate of authenticity, a 12-month manufacturer warranty, and an official case for storage.
All authentic Oliver Peoples glasses have a unique logo on the frame , which can be uncovered using a simple breath test. By fogging the lenses with your breath, you'll see the iconic logo appear directly on the lens in the sunglasses.
We Are Focused on Customer Service Excellence
At Designer Glasses, we make customer satisfaction our top priority. We ship to the United Kingdom, and we offer free worldwide shipping on orders over £200 every day.
Our team of professional eyewear specialists are always available to help you navigate our wide selection of Oliver Peoples designer glasses, or to answer specific questions about the ordering process. Simply give us a call at +44 (0)800 731 8118 or enter your email address to i[email protected], and a member of our team will respond promptly.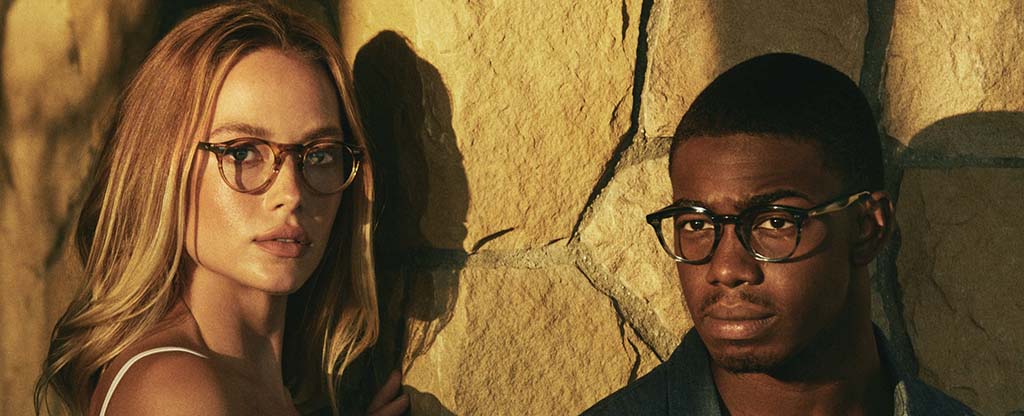 Show all options
For a more precise fit, please choose:
Select your pupillary distance