Loading...
Versace Prescription Sunglasses

About Versace Glasses
Stylish and modern eyewear for everyday use and those special occasions alike. With a reputation for stunning Italian craftsmanship, Versace is renowned around the world for being a luxury fashion house, and their eyewear range is no exception. With frames that never go out of fashion, the Versace eyewear range is a firm favourite for fans around the world, from everyday wearers to A-list celebrities. Breaking the rules of fashion, the Versace eyewear collection reworks traditional and classic frames to create strong and unique styles, perfect for the bold and daring wearer. Explore our range of Versace eyewear range, and find frames for any and every occasion, whether understated everyday wear, or more experimental and bright for the special events. The brand continues to set fashion trends, keeping fans interested with every new release. Shop our collection of official Versace glasses to find a frame that suits you.
FAQs About Versace Glasses
Where are Versace glasses made?
Versace eyewear is manufactured by Luxottica, which is headquartered in Milan, Italy.
Who wears Versace glasses?
Versace glasses are designed and produced for anyone to enjoy, and many celebrities are fans of the brand. Once known as the "rock n' roll designer", Versace's A-list fanbase includes names like Elton John, Notorious BIG, and Jennifer Aniston.
How to spot fake Versace glasses
Authentic Versace glasses are packaged in branded hard cases, which arrive in matching branded boxes. The logo on both the box and the case should be consistent, with clean and sharp embossed edges. Alongside the inner right arm should be printed with the Versace brand name, along with a 'Made in Italy' stamp, and the CE logo to guarantee authenticity. The inner left arm of the glasses should display the model number, colour, lens, and frame sizes printed, which should match the numbers shown on the box.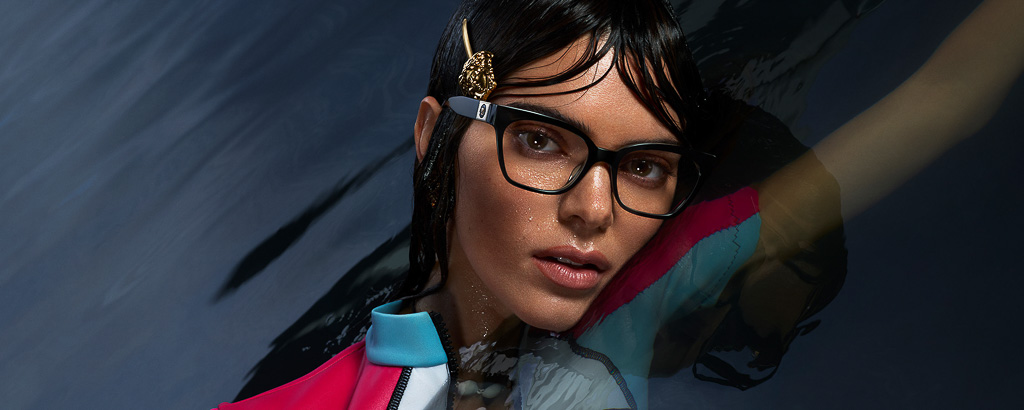 Show all options
For a more precise fit, please choose:
Select your pupillary distance