Loading...
Prada Prescription Sunglasses

About Prada Glasses
Shop eyewear from the leading Italian fashion house, Prada. Since launching in 1913, Prada has been at the forefront of haute couture, and quickly became one of the most famous and prestigious brands in the world, firmly marking it as a leader in fashion history. Known for timeless designs across all of its fashion collections, Prada's glasses collection is no exception. Delivering sophisticated and classic frame styles, every pair of Prada glasses, including sunglasses, stays true to the brand's history and roots in luxurious Italian design.
FAQs About Prada Glasses
Who makes Prada glasses?
Prada glasses are produced in Italy by the team at the optical conglomerate, Luxottica. The Milan-based company is responsible for a number of high-end eyewear brands, including Tiffany & Co., Ray-Ban, and Dolce and Gabbana.
How much are Prada glasses?
How much your Prada glasses cost depends on the style you buy. When you buy with Designer Glasses, we offer free prescription lenses with all our orders if you need, as well as free anti-glare and scratch-resistant coatings.
How to tell if Prada glasses are real
On the inside right arm of the glasses, you should find the Prada logo, a 'Made in Italy' stamp, as well as the CE icon, which confirms that your glasses conform to EU regulations. On the left arm, you should find the model number of your frames, which should start with an S or V (to indicate whether the frames are from Prada's sunglasses or the vision collection), followed by PR, and a short number/letter sequence. You should also have the measurements for your glasses, as well as the colour code, and the lens strength. Prada glasses also include a small inscription on the top of the right lens, showing a serial number. Genuine Prada glasses will also have the iconic logo etched into the left lens. Some glasses with an adjustable bridge may also have the logo etched on the nose pads, but this isn't on every pair. Here at Designer Glasses, we guarantee brand authenticity with every pair of Prada glasses we sell. Your eyewear will be delivered to you in a box, with a hard case, a plain grey lens cleaning cloth and a Prada leaflet, as well as a Prada authenticity card.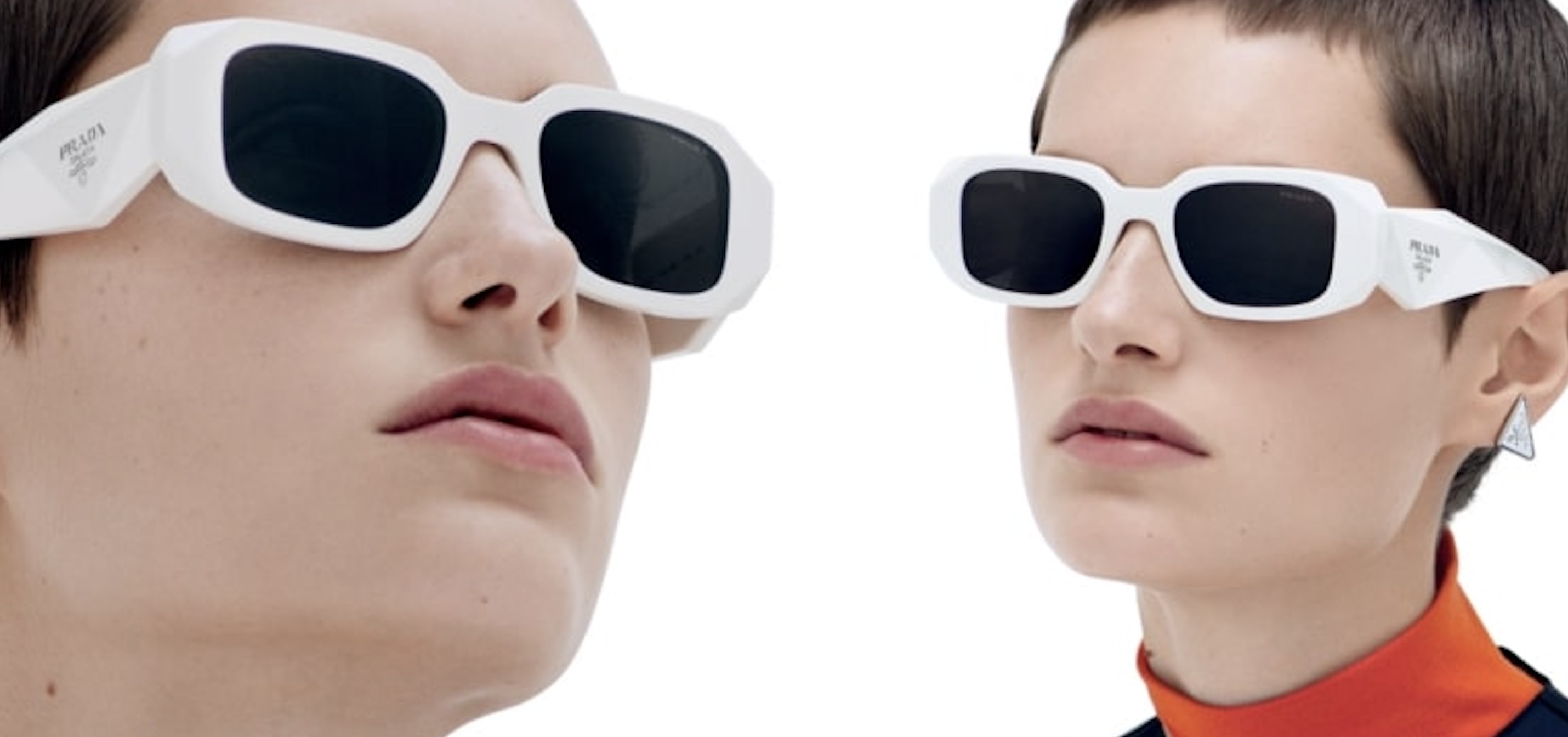 Show all options
For a more precise fit, please choose:
Select your pupillary distance