Loading...
Prada Designer Glasses

Prada Glasses for prescription lenses in luxury fashion
Founded in 1913 by Mario Prada and his brother Martino, Prada has maintained its presence at the forefront of the high-fashion industry for over a century. From its beginnings as a manufacturer and retailer of custom leather goods, the Prada brand now encompasses everything from clothing to shoes to accessories. The company debuted the first Prada eyewear collection in 1999, and since that time has become one of most prominent, exclusive, and desirable eyewear brands in the world, known for exceptional quality and exquisite designs.

Prada glasses are manufactured in Milan, Italy, by Luxottica Group. Luxottica Group strives to provide consumers with glasses to create a touch of elegance for every day. Luxottica Group has an unwavering emphasis on innovative design, creative style, and fine Italian craftsmanship. These qualities are evident in Prada's eyewear.
The Best Prada Prescription Glasses and Frames To Suit Your Personal Style
Designer Glasses offers an extensive collection of Prada glasses for women and men who desire a combination of sophistication, elegance, and premium comfort. When you purchase a pair of Prada designer prescription glasses, your days of boring and bland eyewear will be over! The Designer Glasses online shop has the most stylish and timeless Prada eyeglasses in a variety of colours, shapes, and materials to suit your personal preference.

Whether you are looking for neutral colours, sleek titanium frames, or perhaps a bold angular style made of durable acetate, we have options for every chic and sophisticated customer who values both quality and prestige. Eyewear trendsetters will love the creativity and inspired designs of our Prada glasses collection, where you'll find delicate swirled patterns, modernised use of mixed materials such as acetate and metal, and intricate detailing that is in equal parts trendy and timeless.

Not quite ready to branch out to trendy colours or patterns? Our Prada eyewear collection also features many classic styles to suit the more serious luxury eyewear consumer, including Prada classic round frames, square frames, and full rim metal frames for men and women that lend an air of understated elegance to your luxury eyewear choice.

Prada designer prescription glasses are the height of fashion for consumers around the world, and are a sleek, smart, and stylish choice for men and women of all ages. Browse the carefully curated collection of Prada glasses and designer frames at Designer Glasses to find a pair of Prada prescription glasses that will provide comfort and style for all-day wear.
Want to Try On Your Prada Glasses Before You Buy? Use Our Virtual Try-On Tool!
After you've browsed our collection of Prada designer glasses, we know you'll want to make sure your choice fits your face shape, and makes you feel both confident and stylish. Our Virtual Try-On tool offers the opportunity to virtually try on as many styles as you'd like using the power of augmented reality. Now you can make sure those fantastic Prada eyeglass frames look as amazing on you as they do on your screen! So go ahead and take your shopping experience to the next level by using our innovative tool before you purchase your favourite Prada glasses including the best selling Cat Eye shapes.
Ordering Your Prada Designer Glasses Online Has Never Been Easier
Once you've chosen the most flattering Prada designer glasses, now it's time to begin the customisation process. You can either order the frames only, or you can add your prescription to the frames by inputting your personal information and optimal preferences. You'll be prompted by a series of questions that will collect your preferred lens type, desired material, special coatings, and of course, your personal prescription. After you've completed the process, you'll be ready to add your new Prada glasses to your basket and check out using your preferred payment method. If your Prada designer frames include prescription lenses, please allow for an additional 3 business days of delivery time.
We Offer Only 100% Authentic Prada Designer Glasses
At Designer Glasses, you can shop with confidence in knowing that we only offer 100% authentic Prada glasses for men and women, with affordable prices that are up to 50% off traditional high street pricing. When your new Prada glasses arrive at your door, you'll also receive an official certificate of authenticity, a 12-month manufacturer warranty, and a hard Prada case which will protect your new eyewear from damage and scratches. Your package will also contain a plain grey lens cleaning cloth and a Prada leaflet.
When you look closely at the inner right arm of your new glasses, you'll notice the Prada logo, a 'Made in Italy' stamp, and the CE icon, which verifies that your glasses were manufactured in compliance with EU regulations. The inner left arm will have the model number of your glasses and will start with a 'V' to indicate they are from the Prada vision collection, followed by PR and a short number/letter sequence. You'll also see the measurements for your specific Prada glasses, the colour code, and your prescription lens strength. Your authentic Prada eyeglasses will have the iconic Prada logo etched into the left lens, a serial number on top of the right lens, and if your glasses include nose pads, the logo will be etched there as well.
You'll Always Receive Superior Customer Service at Designer Glasses
At Designer Glasses, our main priority is to ensure the satisfaction of our customers, and we strive to offer a personal and enjoyable shopping experience with every order, including free worldwide shipping on orders over £200. Our team of designer eyewear specialists is always available both online and in-store to assist you in selecting the best pair of Prada designer glasses to suit your vision needs.
If you have questions or concerns, we encourage you to give us a call at +44 (0)800 731 8118 or email [email protected], and a qualified member of our team will respond promptly to your query.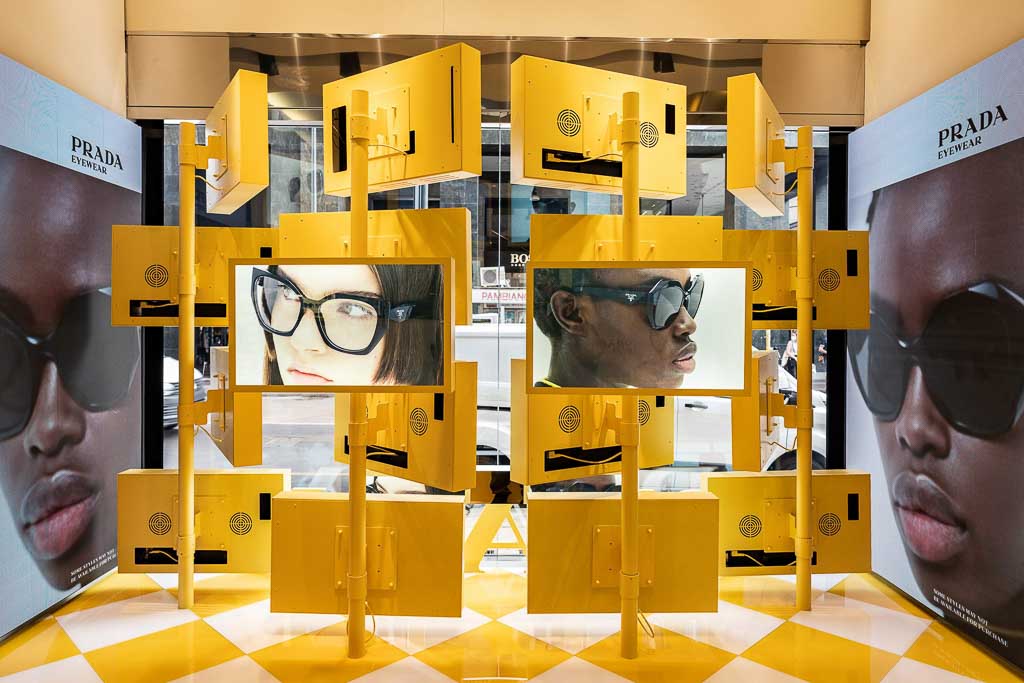 Show all options
For a more precise fit, please choose:
Select your pupillary distance