Loading...
Gucci Sunglasses

Everything you need to know about Gucci Sunglasses
Since its founding by Guccio Gucci, an Italian businessman and fashion designer from Italy in 1921, Gucci has been renowned as one of the best designer brands in the world. It boasts bold, eclectic, and fashionable selection of high-end luxury designer sunglasses and leather goods.

In 2015 Alessandro Michele was appointed creative director of Gucci and since then he has flawlessly modernised the Gucci fashion house as the concept of high fashion. With a collection of designer sunglasses including unique shapes, bold colour schemes, and of course, the instantly you will know the logo that is an icon of the modern fashion industry.

Remaining true to its foundation built on the finest quality of Italian craftsmanship, the sunglasses feature innovative designs that blend contemporary style, romance, intrigue, and modern flair. With our huge selection of the best Gucci sunglasses available, you will have peace of mind knowing Gucci eyewear have full sun protection with UVA and UVB blocking properties.

Browse the full collection of designer Gucci models to find the best fit for your face shape, wardrobe style, and budget.
Shapes and Styles To Frame Every Face Perfectly
designerglasses.co.uk has the complete selection of Gucci sunglasses in different silhouettes and sizes to fit your personal style, including classic aviator sunglasses, wayfarers, and oversized shapes. Cats Eye for women is a firm favourite as are the large Gucci sunglasses for men, the GG0010S. Gucci aviator are a perennial unisex design. Collection events always highlight the Gucci sunglasses for women as a must have accessory.
There are crystal embedded frames, effortlessly cool rimless options, demure Cats Eye sunglasses for simple sophistication, and square or hexagonal shapes for the bold trendsetter.
All styles are available in a selection of colourful options, including classic black, bold red, and tortoise patterns, perfect for every occasion from casual daytime wear to black-tie elegance.
You can truly make the sunglasses your own. Options such as polarised lenses, transition lenses, custom tints, prescription lenses, and special lens coatings are available for an additional level of protection from scratches and other damage.
Whether you choose a minimalist sleek style, or a pair of trendy retro frames, each pair is an investment piece that will add luxurious style to accompany your wardrobe for many years to come.
Try Them on For Size – Virtually
At Designer Glasses, we understand that selecting the perfect pair of Gucci sunglasses from our many shapes and styles is no easy task. That's why we've made it easy for you with our Virtual Try-On reality tool. This allows you to envision exactly how your favourite sunglasses will look with your own face shape.
Now you can order your new sunglasses in the perfect size and shape to flatter your personal features with timeless elegance.
Currently, the most popular Gucci Sunglasses are GG0022S and GG0034S.
How To Order
It has never been easier to order a new pair of Gucci sunglasses online at Designer Glasses. Simply browse our wide variety of designer Gucci sunglasses for men and women and select your favourite option.
Before checkout, you'll be prompted to select your preferred "Frame Colour" and "Frame Size" to indicate your personal preference. Then add your desired Gucci sunglasses to your basket and checkout using your preferred payment method, at which time you'll be given an estimated delivery date. The hardest part of the whole process is waiting for your new sunglasses to arrive! If you need any further help, click here for step-by-step order help.
Designer Glasses Is Your One-Stop Source for Authentic Designer Glasses
Designer Glasses is proud to offer our customers the full collection of Gucci sunglasses at a variety of competitive prices, with up to 50% savings over traditional high street prices.
Our 100% authentic Gucci brand sunglasses all come with a certificate of authenticity and 12-month manufacturer's warranty. Each pair of Gucci sunglasses is protected by a hard case, which comes in a soft, plush bag and a white lens cloth that allows for damage-free cleaning and polishing. The stitching on the bag and case is sewn with precision and detail and should be completely even on all sides.
The arm of your new Gucci sunglasses will have a "CE" stamp, which means "Conformité European", and ensures that your product was authentically designed for 100% genuine Gucci quality. All customers enjoy free worldwide shipping on orders over £200.
We are constantly adding new designs, seasonal trends, and updated classic styles, so be sure to check back with us regularly to browse the best Gucci sunglasses selection. We also offer all major fashion brands including Tom Ford, Saint Laurent Ray Ban and Polo Ralph Lauren glasses and sunglasses.
Our Commitment to Customer Service Excellence
The team at Designer Glasses strives to provide our customers with a wonderful, personalised shopping experience both online and in-store. If you have any questions about our product selection, sizing, customisation options, or general questions, our team is always here to help at +44 (0)800 731 8118 or email: [email protected].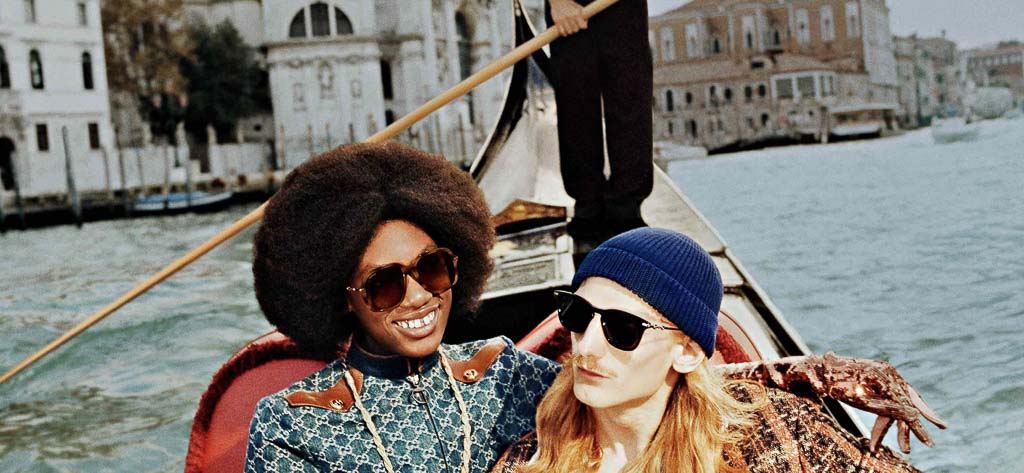 Show all options
For a more precise fit, please choose:
Select your pupillary distance