Loading...
Prescription Sunglasses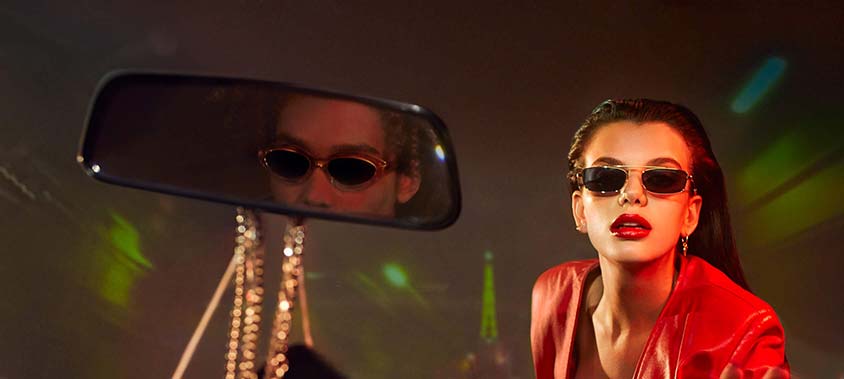 About Prescription Sunglasses
Many of the designer sunglasses that we have available can also be supplied as prescription sunglasses.
When selecting 'Frame Option', if a sunglasses frame also displays 'Add prescription lenses to my frames', then a prescription can be added during the online ordering process. All our prescription sunglasses are glazed by fully qualified technicians in our own UK laboratory and can be supplied with lenses with full UVa and UVb protection.
At designerglasses.co.uk we have a fantastic range of prescription sunglasses from leading designer brands including Alain Mikli, Burberry, Cazal, Dolce & Gabbana, Emporio Armani, Gucci, Hugo Boss, Michael Kors, Oakley, Oliver Peoples, Police, Prada, Ralph Lauren, Ray Ban, Starck, Swarovski, Tom Ford, Versace and Valentino.
Once you have chosen the frame to suit your personal style and budget, you can select the lens type, lens material, lens coating and customise your prescription sunglasses further with your preferred tint.
With complete peace of mind that all prescription eyewear from Designer Glasses is 100% authentic, offered with 12 months manufacturers warranty and available at the most competitive prices, get stylish protection from the sun while enabling you to see clearly with our fantastic range of prescription sunglasses.
Show all options
For a more precise fit, please choose:
Select your pupillary distance
Gunmetal
Matte Gunmetal/Light Grey Mirror Black

Black
Matte Black/Green Gradient

Blue
Matte Blue/Grey Gradient
Black
Black/Grey

Havana
Havana/Green
Black
Black/Grey

Black
Black/Grey

Black
Black/Pink
Black
Matte Black/Brown Grey
Black
Black/Gold/Grey Polarized Gradient

Black
Black/Gold-Tone/Grey Polarized Gradient

Tortoise
Dark Tortoise/Gold/Brown Gradient

Pink
Pink/Rose Gold/Rose Gold Flash
Gold
Rose Gold/Silver Mirror

Gold
Rose Gold/Grey Mirror Gradient Polarized

Brown
Shiny Milky Brown/Smoke Gradient
Gold
Light Gold/Dark Grey Polarized

Gold
Rose Gold/Rose Gold Polarized
Black
Shiny Black/Dark Grey Gradient
White
Buff/Green C
Black
Black/DTBK Gradient/Crystal Polarized Green G15

Black
Semi Matte Black/Crystal Midnight Express Polarized

White
Crystal/Crystal Indigo Photocromic

Havana
Tortoise(8108)/Crystal B15 Brown

Yellow
Buff/Dark Tortoise Brown/Gold Mirror MG
Brown
Cocobolo/Champagne Photochromic

White
Crystal/Cobalto

Black
Black/Indigo Photochromic

Yellow
Buff/Green C

Grey
Workman Grey/Grey Gold Tone
Black
Black/Blue Polarized
Black
Matte Black/Grey

Havana
Shiny Antique Havana/Brown

Havana
Shiny Antique Havana/Polarized Brown

Havana
Shiny Jerry Havana/Olive Green

Havana
Stripped Havana/Light Blue

Grey
Shiny Semi Transparent Grey/Dark Blue

Black
Shiny Black Crystal/Grey Mirror Flash
Gold
Arista/Crystal Green

Gold
Gold/Polarized Green

Black
Shiny Black/Mirror Gradient Blue

Gunmetal
Gunmetal/Light Green

Gunmetal
Gunmetal/Light Brown

Gunmetal
Gunmetal/Light Blue

Gunmetal
Gunmetal/Evolve Photo Yellow To Red

Gunmetal
Gunmetal/Light Pink

Black
Matte Black/Crystal Gradient Light Blue

Silver
Matte Silver/Light Green Mirror Silver

Gunmetal
Matte Gunmetal/Crystal Green

Gold
Matte Gold/Blue Mirror Polarized

Gold
Matte Gold/Green Mirror Polarized

Yellow
Matte Gold/Brown Mirror Pink

Brown
Shiny Light Bronze/Pink Gradient Brown

Brown
Shiny Medium Bronze/Green Gradient Brown

Brown
Shiny Dark Bronze/Blue Gradient Brown

Gold
Gold/Photo Green

Gold
Gold/Grey

Silver
Silver/Photo Blue

Silver
Silver/Pink

Black
Black/Violet

Crystal
Legend Gold/Green

Gold
Legend Gold/Photo Grey/Blue Light Filter

Crystal
Silver/Green Bottol

Gold
Legend Gold/Blue

Silver
Silver/Dark Grey

Black
Black/Green