Loading...
Ray-Ban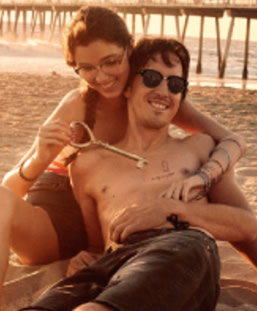 About Ray-Ban Glasses
Founded in 1937, Ray-Ban started off as the official supplier of sunglasses for US Air Force pilots in classic Aviator style. Later in 1952, the brand created another iconic style – the Wayfarer, and today Ray-Ban is one of the most famous designer brands in the world. With timeless designs and an instantly recognisable style, it's easy to see why the brand has a legion of loyal fans, including the likes of Jack Nicholson, Britney Spears and Jennifer Aniston. Shop our range of official Ray-Ban eyewear. Each pair is produced and sent to you with guaranteed authenticity and to the high standard you'd expect from the Ray-Ban brand.
FAQs About Ray-Ban Glasses
Who owns Ray-Ban?
Ray-Ban is owned by the optical conglomerate, Luxottica Group, which is based in Milan, Italy.
Where are Ray-Ban glasses made?
Genuine Ray-Ban glasses are handmade in Italy and/or China, at the Luxottica factories.
How can you tell if Ray-Ban glasses are real?
All Ray-Ban glasses are made from high quality materials and are cut from a single piece of acetate. Most models use glass for the frames, but some newer models may not use glass lenses. Because of this, genuine Ray-Ban glasses will hold some weight to them. Authentic Ray-Ban glasses will also arrive in a hard box with the logo printed on it, along with the barcodes for the retailer. The glasses should also come with a hard leather-look case. The design for this case differs between glasses models, but should include a shiny seal in black or gold which reads: "100% UV Protection - Ray-Ban - Sunglasses By Luxottica." The accompanying cleaning cloth should be soft and include the Ray Ban logo. It's also possible to check the authenticity on the lens themselves. Genuine Ray-Bans will have the RB logo clear and visible on the left lens next to the hinge, while polarised sunglasses will have Ray-Ban P engraved in the corner of the right lens. Genuine glasses will also come with a Ray-Ban logo sticker that is stuck to the lens by static. Fakes will use a glue to stick this on. If your glasses have nose pads, you should be able to see the RB logo etched into the metal. You should also check the glasses information on the inside left arm, including the model number and the sizing details for your pair. Some models, such as the Wayfarer and Justin, have the Ray-Ban badge attached to the temples of the arms with pins. If these badges are glued, it can indicate a fake pair of glasses.
Show all options
For a more precise fit, please choose:
Select your pupillary distance
Black
Shiny Black

Gunmetal
Gunmetal
Crystal
Black/Green

Havana
Spotted Black Havana/Green

Havana
Spotted Brown Havana/Brown

Black
Wrinkled Black On Black/Brown Mirror Pink

Bordeaux
Top Bordeaux On Transparent Bordeaux/Light Grey Mirror Rainbow 1

Havana
Spotted Brown/Blue/Clear Gradient Brown

Brown
Top Wrinkled Beige On Blue/Clear Gradient Blue

Grey
Top Wrinkled Grey On Bordeaux/Clear Gradient Grey

Black
Black/Polarized Green

Havana
Red Havana/Green

Havana
Red Havana/Polarized Green
Gold
Gold

Black
Silver Top Black

Havana
Top Havana On Rubber Gunmetal
Gold
Gold

Silver
Silver

Black
Black

Blue
Top Blue On Copper
Crystal
Legend Gold/Green

Gold
Shiny Gold/Photo Dark Grey Mirror Gold

Gold
Shiny Gold/Photo Orange Mirror Gold

Gold
Shiny Gold/Photo Grey Mirror Grey

Gold
Gold/Clear Gradient Brown

Crystal
Silver/Green

Crystal
Silver/Clear Gradient Blue

Crystal
Gold/Dark Grey
Black
Shiny Black

Black
Matte Black

Black
Top Black On Green

Yellow
Matte Havana

Grey
Transparent Grey

Blue
Transparent Blue
Gold
Gold/Green

Gold
Shiny Gold/Photo Pink Mirror Grey

Gold
Shiny Gold/Photo Dark Grey Mirror Gold

Gold
Shiny Gold/Photo Orange Mirror Gold

Gold
Shiny Gold/Photo Grey Mirror Grey

Gold
Gold/Clear Gradient Brown

Gold
Gold/Blue Gradient Blue Polarized

Black
Black/Green

Silver
Silver/Clear Gradient Blue

Silver
Silver/Photo Azure Gradient Blue

Gold
Gold/Photo Orange Gradient Brown

Gold
Gold/Dark Grey

Brown
Copper/Photo Red Gradient Bordeaux

Gold
Legend Gold/Green

Silver
Silver/Green Bottle
Black
Black/Green

Brown
Transparent Light Brown/Gradient Brown

Pink
Transparent Pink/Pink Gradient Brown

Violet
Transparent Violet/Light Brown Gradient Black

Green
Transparent Green/Blue Gradient Grey

Havana
Striped Havana/Green

Havana
Striped Havana/Brown Polarized
Black
Rubber Black/Polarized Green

Black
Top Rubber Black On Shiny Black/Green

Havana
Light Havana/Crystal Brown

Black
Black/Crystal Green

Tortoise
Tortoise/Crystal Green

Tortoise
Tortoise/Crystal Green

Black
Matte Black/Polarized Blue Gradient Grey

Black
Top Black On Transparent/Green

Blue
Top Matte Blue On Transparent/Grey Gradient

Black
Top Blue On Transparent/Grey Gradient Polarized

Gunmetal
Top Brushed Gunmetal On Transparent/Grey Gradient Dark Grey

Havana
Matte Havana/Brown

Havana
Matte Havana/Green

Havana
Matte Havana/Brown Gradient Dark Brown

Blue
Matte Blue/Military Green/Green

Black
Black Rubber/Crystal Green

Black
Rubber Black/Grey Mirror Blue

Black
Rubber Black/Grey Mirror Green

Black
Rubber Black/Grey Mirror Silver

Blue
Blue/Top Blue Alcantara/Green

Black
Matte Black On Opal Ice/Grey Gradient Dark Grey

Black
Black/Transparent/Blue Mirror Gold

Havana
Striped Grey Havana/Dark Grey

Havana
Striped Blue Havana/Blue

Grey
Top Rubber Blue On Shiny Black/Green

Green
Top Rubber Military Green On Black/Green

Red
Top Rubber Red On Shiny Black/Green

Havana
Light Havana/Crystal Brown Gradient

Blue
Top Blue Orange/Crystal Gradient Light Blue

Havana
Striped Red Havana/Clear Gradient Blue

Black
Top Black On Being/Crystal Green

Havana
Matte Havana/Blue/Green Polarized

Black
Black/Crystal Green

Black
Black/Crystal Green Polarized

Black
Shiny Black/Clear Blue

Havana
Tortoise/Crystal Green Polarized
Black
Black/Crystal Green Polarized

Black
Tortoise/Crystal Green

Black
Light Tortoise/Crystal Brown

Blue
Jeans/Grey Gradient Dark Grey

Green
Green/Yellow Polarized

Red
Tortoise/Crystal Brown Polarized

Brown
Top Brown On Yellow Havana/Clear Gradient Brown

Grey
Top Grey On Havana/Grey Gradient

Blue
Top Blue On Red Havana/Clear Gradient Blue

Crystal
Havana On Transparent Light Brown/Dark Grey

Crystal
Black On Transparent/Gradient Blue

Crystal
Red On Transparent Grey/Blue Gradient

Black
Black On Chevron Grey/Burgundy/Light Grey Gradient Blue

Blue
Blue On Vichy Blue/White/Clear Gradient Blue

Blue
Blue On Stripes Orange/Blue/Brown Gradient Dark Brown

Black
Black/Crystal Green

Havana
Tortoise/Crystal Brown Gradient

Havana
Tortoise/Crystal Brown Polarized
Havana
Rubber Havana

Black
Rubber Black

White
Transparent

White
Transparent

White
Transparent

White
Transparent
Black
Matte Black

Havana
Matte Havana

Black
Transparent

Black
Black

Black
Black

Blue
Matte Transparent Blue

Brown
Matte Transparent Brown

Grey
Matte Transparent Grey

Havana
Matte Light Havana

White
Transparent

Grey
Transparent Grey

Grey
Transparent Grey

Black
Transparent

Violet
Transparent Violet
Black
Black/Grey Green

Havana
Shiny Dark Havana/Polarized Brown

Brown
Turtledove/Brown Gradient

Grey
Striped Dark Havana/Dark Grey

Havana
Dark Havana/Dark Brown

Havana
Havana/Gradient Red Mirror Red

Red
Stripped Red Havana/Dark Brown
Black
Shiny Black

Black
Matte Black
Black
Black/Crystal Green Polarized

Black
Ebony/Arista Crystal Green

Black
Mock Tortoise/Arista Crystal Green

Crystal
Black/Brown

Crystal
Havana/Brown

Crystal
Matte Black/Brown

Yellow
Sand Havana/Gold/Grey Mirror Blue

Havana
Sand Havana/Gold/Light Green Mirror Silver

Yellow
Spotted Black Havana/Green

Havana
Spotted Brown Havana/Brown

Red
Metallic Dark Bronze//Light Grey Mirror Rainbow 1

Havana
Spotted Grey/Green/Grey Gradient Dark

Havana
Spotted Brown/Blue/Clear Gradient Brown

Crystal
Top Grey On Havana/Brown Mirror Gradient Grey

Crystal
Top Blue On Havana Red/Blue Mirror Gradient Fuchsia

Black
Top Wrinkled Black On Black/Dark Grey

Havana
Shiny Havana/Brown

Blue
Top Wrinkled Blue On Brown/Clear Gradient Grey

Black
Shiny Blue/Clear Blue

Havana
Red Havana/Crystal Green Polarized

Havana
Shiny Red/Havana/Copper Flash Gradient

Havana
Shiny Red/Havana/Blue Flash Gradient

Havana
Shiny Red/Havana/Green Flash Gradient
Gold
Gold/Grey Green

Gold
Gold/Crystal Brown

Gold
Gold/Crystal Brown Polarized

Gold
Gold/Crystal Green Polarized

Black
Black/Crystal Green Polarized

Gold
Gold/Dark Green

Gold
Gold/Grey Green

Black
Black/Grey Green

Gold
Gold/Grey Green

Gold
Gold/Crystal Brown Pink Silver Mirror

Gold
Gold/Crystal Gradient Light Blue

Gold
Gold/Crystal Brown Mirror Silver Gradient

Gold
Gold/Crystal Brown Gradient

Gold
Shiny Gold/Photo Grey

Crystal
Shiny Black/Mirror Gradient Blue

Silver
Silver/Crystal Grey Gradient

Silver
Silver/Crystal Gradient Light Blue

Silver
Silver/Crystal Grey Gradient

Gunmetal
Gunmetal/Crystal Brown Gradient

Gunmetal
Gunmetal/Crystal Green Polarized

Gunmetal
Gunmetal/Crystal Polarized Blue Gradient Grey

Silver
Matte Silver/Silver Mirror Polarized

Gunmetal
Matte Gunmetal/Green Mirror Silver

Gold
Matte Gold/Crystal Green Mirror Multi Blue

Gold
Matte Gold/Crystal Green Mirror Multi Green

Gold
Matte Gold/Brown Mirror Fuchsia Polarized

Gold
Matte Gold/Brown Mirror Red Polarized

Gold
Matte Gold/Blue Mirror Polarized

Gold
Matte Gold/Green Mirror Fuchsia

Gold
Matte Gold/Crystal Brown Mirror Orange

Gold
Gold Matte/Brown Gradient

Gold
Matte Gold/Brown Gradient Brown Polarized

Gold
Matte Gold/Green Mirror Polarized

Gold
Matte Gold/Polarized Dark Grey

Brown
Brushed Bronze Demishiny/Grey Mirror Lilac Polarized

Gold
Gold/Light Grey Gradient Dark Grey

Black
Shiny Bronze/Light Grey Gradient Dark Grey

Brown
Shiny Light Bronze/Pink Gradient Brown

Gold
Gold/Photo Brown

Silver
Silver/Pink

Black
Matte Black/Photo Yellow

Grey
Gold On Top Matte Grey/Grey Bi-Mirror Grey

Blue
Copper On Matte Dark Blue/Blue Bi-Mirror Grey

Crystal
Sand Transparent Blue/Green

Crystal
Sand Transparent Brown/Green

Crystal
Sand Transparent Grey/Green

Crystal
Sand Transparent Green/Green

Gunmetal
Gunmetal/Grey Gunmetal

Silver
Silver/Crystal Grey Mirror

Silver
Silver/Crystal Grey Mirror