Loading...
Ray-Ban Designer Glasses

About Ray-Ban Glasses
Ray-Ban is world-renowned as one of the world's premier manufacturers of luxury high-end designer glasses with fashionable frames, quality craftsmanship, and innovative designs that have stood the test of time. Originally founded as a brand extension of Bausch & Lomb, Ray-Ban was ultimately sold to the Luxottica Group in 1999, a specialty group in Milan that produces some of the world's best designer eyewear brands.
Long recognised as a pioneer of enduring eyewear styles, Ray-Ban developed its classic Aviator frames in 1936 for use by US Air Force Pilots, and in 1952, the timeless Wayfarer frames were introduced. They remain two of the most iconic global styles in eyewear today, and the popularity of Ray-Ban designer glasses continues to extend to all ages around the world.
Whether you want your new Ray-Ban designer glasses to offer a subtle classic style, or make a bold statement as a sophisticated accessory, you can explore our selection of the best Ray-Ban designer glasses to find the perfect fit for your personal style.
Our Selection of Timeless Ray-Ban Prescription Glasses and Designer Frames
From distinguished to trendy to sophisticated, Designer Glasses offers a wide selection of luxury Ray-Ban glasses in different shapes, colours, and sizes to best fit your face shape and personal eyewear preference.
In addition to the classic Ray-Ban Aviator and Wayfarer designs, the Ray-Ban Clubmaster is another distinctive style that was popularised by the global designer eyewear brand. With a thick plastic rim at the brow line, the Clubmaster is a favourite option for round, oblong, or heart-shaped faces. First introduced in the 1950s, this choice looks just as stylish today as it did so many years with its distinctive combination of retro chic style and modern flair. Prescription eyewear has never looked more stylish than with the classic luxury of designer Ray-Ban glasses.
There are rimless options, round lenses with thin metal frames, and transparent plastic frames for those who want to project an air of intellectual charm. For those who are looking for a trendy statement accessory, we offer oversized square frames, tortoise patterns, and bold colours to make your eyewear speak volumes about your unique personality.
Our featured Ray-Ban glasses are so fashionable that you may just choose to wear them even if you don't need them!
Select Your Ray-Ban Glasses With Confidence Using Our Virtual Try-On Tool
The team at Designer Glasses wants to make the online shopping experience as easy as possible for all of our valued customers. Our innovative augmented reality feature will show how your new Ray-Ban glasses will frame your face and make your eyes stand out behind your new lenses. Use our Virtual Try-On tool to make sure your selected frames achieve the look you desire, whether that is a look of academic devotion, trendsetter style, or classic sophistication.
Ordering Your Ray-Ban Glasses Is Fast and Easy
At Designer Glasses, we always strive to make it easy for our customers to order their new Ray-Ban prescription glasses. Begin by exploring our selection of premium and authentic Ray-Ban glasses for men and women to choose your favourite style. Once you make your selection, you can choose to order the frames only, or you can add prescription lenses to your frames.
If you choose to add personalised prescription lenses, you'll be prompted to answer questions relating to your prescription options, such as lens type, preferred material, lens coating, and more. Once you have included all your information, you'll be ready to checkout, and you'll be given an estimated delivery timeline. Note that if you are customising your Ray-Ban frames with prescription lenses, the delivery time will increase by up to 3 working days.
Shop Designer Glasses For The Best Authentic Ray-Ban Glasses
The Designer Glasses online shopping experience features only verified authentic Ray-Ban glasses that are 100% genuine. In addition to receiving a certificate of authenticity, a 12-month manufacturer warranty, and an exclusive Ray-Ban glasses case and cleaning cloth, you'll also receive competitive pricing of up to 50% less than typical high street prices.
All plastics Ray-Ban glasses frames are made from a single piece of acetate, which is a durable and sustainable material that adds a unique touch of luxury. Your new Ray-Ban glasses will feature the iconic "RB" logo on the left lens if chosen as sunglasses, and if your glasses have nose pads, you'll also see the "RB" logo etched directly into the metal.
On the inside left arm of your frames, you can also verify the model number and sizing details. We at designerglasses.co.uk recommend anti-reflective lenses for your high quality pair of glasses to make them the perfect pair of designer glasses for you. If are considering a retro look with your pair of Ray-Ban glasses, then consider choosing the Ray-Ban Wayfarer or softer Ray-Ban Wayfarer 2.
We Offer Superior Peace of Mind with Dedicated Customer Service
At Designer Glasses, we strive to offer unsurpassed customer service excellence. With every order over £200, our customers enjoy free shipping all over the world. Whether you are searching our extensive Ray-Ban glasses inventory online, or visiting one of our retail shops, we want to provide the best shopping experience possible.
Contact us at any time with questions about our products, ordering process for prescription lenses, sizing, or other general queries at free phone +44 (0)800 731 8118 or email [email protected].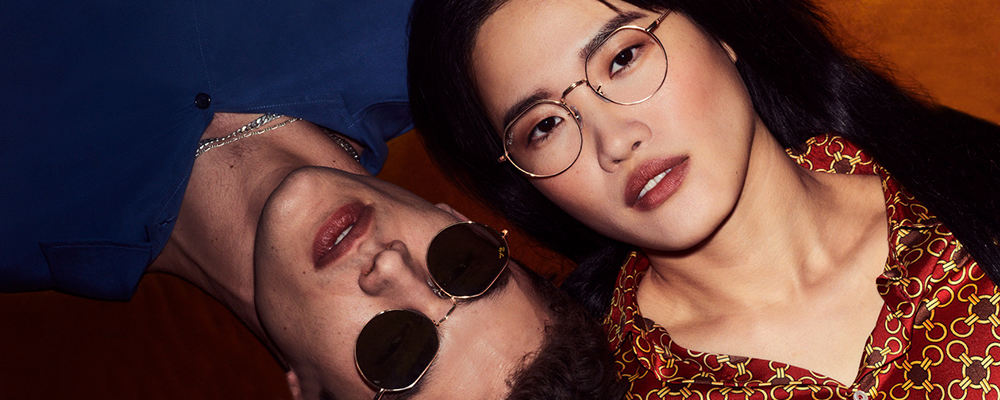 Show all options
For a more precise fit, please choose:
Select your pupillary distance